What are Chase checks? Chase checks are checks issued by JPMorgan Chase, one of America's largest commercial banks. The reason placing Chase check orders should be avoided is that it is expensive. And the best alternative to Chase checks orders is printing them using Online Check Writer, the best check printing software on the market. The Check 21 Act lets checks be printed on regular or blank check stock paper using any printer. Checks are one of the most reliable and convenient forms of monetary exchange. Being able to print checks inexpensively can make a lot of difference to a business's profit margin. And Online Check Writer lets you save money and increase your profit margin.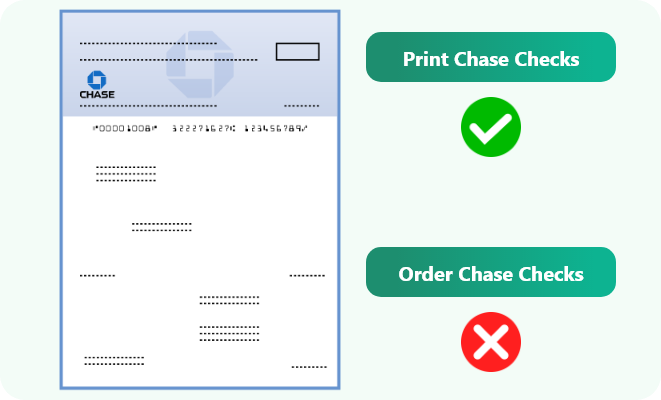 Online Check Writer
Key figures
4,000+
New Customers a Week
50,000+
Transactions per Week
Chase checks orders must be made and despatched to the intended recipient by post or email. Online Check Writer, however, offers its customers the ability to print custom checks. Customers can easily design the check using a drag and drop design interface that lets them add a brand logo, change the font, and so on. Apart from merely offering custom printed checks, Online Check Writer also offers certain advantages. There is no hidden fee or minimum balance requirement for bank accounts, and it offers accounts receivable and payable management, a virtual card, and a corporate expense card.
On the other hand, Chase bank has a remarkably high monthly fee, overdraft fee, and ATM withdrawal charges. These exorbitant fees make it difficult for someone to open or maintain an account with Chase bank. Also, some accounts require a high credit score to apply. Another problem that the Chase account has is that it does not offer the facility to send or receive wire transfers, nor do they provide free ACH transfers. On the other hand, Online Check Writer provides inexpensive ACH payments and wire transfers for nominal fees.
Online Check Writer's tie-up with Zil Bank helps customers easily open and maintain a bank account. With no hidden fees, a physical card, and a virtual card to help with banking needs. Zil provides a solution to most of the problems customers face with Chase bank accounts, and it also provides services such as free check drafts, eChecks, checks by standard mail, inexpensive ACH payments, direct deposits, and wire transfers. The virtual card can be used immediately after applying and can be used with merchants who have enabled touchless transactions and online vendors. Apart from this, it also provides a corporate expense card that can be assigned a daily withdrawal limit and given to employees. Zil also lets customers open different accounts for the same business and allows a customer the facility to open accounts remotely.
Account security is another issue that Chase bank customers face. There have been many instances of account fraud and money loss for customers. Online Check Writer and Zil Bank use artificial intelligence to protect their customers. For instance, the positive pay feature is a system that cross-verifies the checks issued by the firm with the check submitted for payment, and this will ensure that there is no discrepancy and that fraudulent checks do not get cleared for payment. The last and perhaps the most important feature of Online Check Writer is that customer service is available 24/7. The efficient customer support team is always ready to resolve any customer queries using their resources. All queries will be attended to within minutes, and the solution rate for all problems addressed is above 95%.
So why should you choose Online Check Writer instead of placing Chase check orders?
Does away with the need to order pre-printed checks 

Let's you easily design checks

No hidden fee or minimum balance 

Has no monthly charges 

Can send and receive wire transfers 

Free ACH payments 

Accounts receivable and payable management

Artificial intelligence for security

24/7 customer service