Retail Textile Business' Finance Management Made Effortless
Retail Textile owners can offer multiple payment options to their customers, like ACH, wire transfer, check, credit, and debit card payments offered by the cloud-based platform for increased customer satisfaction. Retail textile businesses can manage their finances easily with the help of the payment platform.
You can also avail credit options like revolving credit and pay by credit card to make timely payments to employees and wholesalers.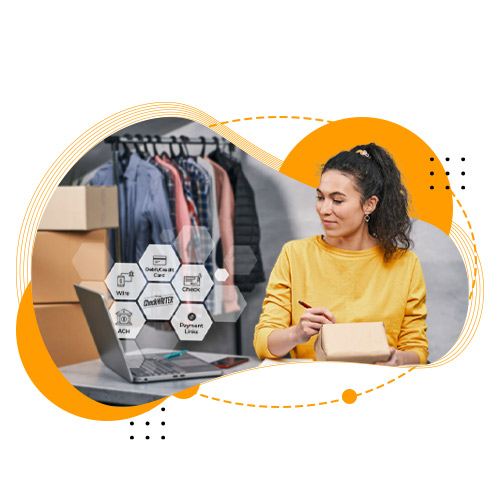 Better Financing For The Retail Textile Industry
OnlineCheckWriter.com offers a better payment solution for retail textile businesses with multiple payment methods to pay and get paid. Moreover, multiple bank accounts can be connected to the platform to manage and track all transactions in one place. Businesses can shift from traditional banking to online banking with OnlineCheckWriter.com, for convenient financial management.
A practical payment solution is necessary for stress-free cash flow and timely payments. OnlineCheckWriter.com will enable retail textile business owners to pay their wholesalers and employees without interruption.
Leave Behind The Obstacles
If you are a retail textile owner who finds it hard to manage finances, make the switch to OnlineCheckWriter.com. The platform provides flexible payment options to ensure your business stays ahead of the competition with better finance management.
FREQUENTLY ASKED QUESTIONS
Why online banking is better?
Online banking is more convenient, quick, and accessible than traditional banking. OnlineCheckWriter.com offers an online banking service that is convenient and easy.
How to manage business finances?
Business finances can be managed with better accounting software to track finances, generate financial reports, and streamline bookkeeping tasks. OnlineCheckWriter.com is one of the best accounting software that businesses can use to manage their finances.
Is online banking secure?
Online banks usually have multiple layers of security and advanced encryption methods for protecting customer data. OnlineCheckWriter.com is a secure online banking platform for making safe and convenient transactions.
Online Banking vs Mobile Banking
Online banking is accessed through a desktop or laptop computer using a web browser to access the bank's website. In contrast, mobile banking is accessed through a mobile device such as a smartphone or tablet using a dedicated mobile banking app. OnlineCheckWriter.com offers both online banking and mobile banking services for users' convenience.
5000+
New Customers Per Week
22K+
Transactions Per Week