International Payments
International Payments are easy now. You can make international payments to work with overseas suppliers and customers, including outgoing and incoming wire transfers. In addition, the cloud-based software records your transactions, providing an accurate bank reconciliation solution by connecting multiple accounts so you never miss out again.
In addition, pay and receive checks, eChecks, and ACH at a minimum cost. And send checks by mail with our $1.25 check mailing service through USPS/FedEx. Also, OnlineCheckWriter.com provides you with an online banking service named Zil. Open a free business checking account with Zil to transfer money instantly, and send ACH, Wire, and checks by mail.

Online Check Writer
Key figures
4,000+
New Customers a Week
50,000+
Transactions per Week
All-In-One Mobile App
OnlineCheckWriter.com is a simple and secure way to process ACH payments, direct deposits, or RTP. Pay or get paid by printable checks and eChecks on the all-in-one platform with low transaction fees. Getting started with the app is easy, with all the web features and functions available. So you can still run your business with a truly mobile experience.
Our Features AP/AR
OnlineCheckWriter.com offers a wide range of banking features to make your business transactions secure and flexible. Now you can pay and receive payments with the easy-to-use software and dive into the journey.
Make Your Payments Without Any Delays
OnlineCheckWriter.com helps you speedily make your payments. Create and design your checks using the pre-made check templates. Customize your checks using a business logo and business name. Add banking details and drag and drop your signature in the signature area. After creating the check, send it by email to the payee, and the payee can take check prints whenever needed and cash it. Leave all your tensions behind and go for OnlineCheckWriter.com to help you send and receive checks.
Flexible Payment Options
To meet business requirements, OnlineCheckWriter.com offers several flexible payment methods. OnlineCheckWriter.com lets you pay merchants and suppliers by checks or digitally. The platform lets you pay retailers with credit cards, even if they don't usually take them. This flexibility lets you use your credit card's rewards points or cashback without disrupting your payment process. Depending on your needs, OnlineCheckWriter.com also accepts ACH, wire transfers, eChecks, and printable checks.
Easy To Access
Instant access to your account anywhere, anytime.
High Security
Secured with Encryption, Fraud Detection, and Infrastructure.
Easy Payment
Efficiently transfer funds to where they're needed.
Cost-Free Transactions
OnlineCheckWriter.com offers free transactions, eliminating credit card transaction costs. Vendors may have refusing to accept credit card payments because of the fees. This lets you keep your credit card rewards and pay retailers and providers using your preferred method. OnlineCheckWriter.com eliminates credit card fees and simplifies transactions. A simple, affordable payment approach enhances your financial benefits.
FREQUENTLY ASKED QUESTIONS
What are international payment methods?
The most common forms of upfront payment are wire transfers, credit cards, and cash. OnlineCheckWriter.com offers customers wire transfer services and pay by credit options.
How long do international payments take?
International bank transfers usually take one or two days. However, the time can vary depending on your currency and how long it takes to process. So start your first payment with OnlineCheckWriter.com now!
How to accept international payments?
With the right payment gateway, you can accept international payments. OnlineCheckWriter.com can be used to accept payments from any country.
International Money Transfer vs Wire Transfer
OnlineCheckWriter.com has both of these options. Wire transfers enable money movement from one bank account to another, typically for a fee. With the international money option, you can send money to your relatives or others abroad.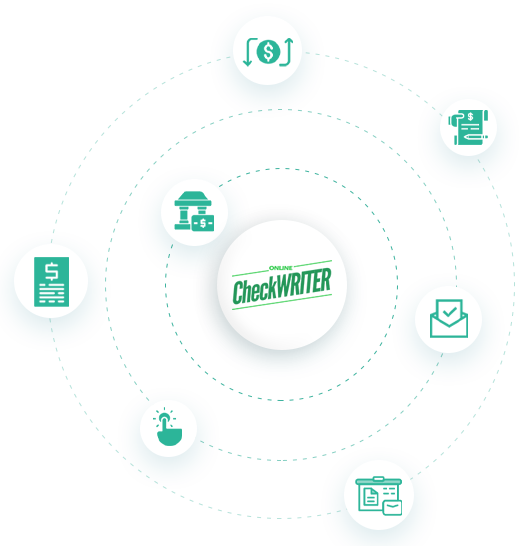 YOUR PERFECT ACCOUNTING SOLUTION
Cutting Cost by Allowing Businesses to use

B

lank Check Stock over Pre-Printed Checks.
A single platform to connect all your bank accounts.
Accept Payments by Phone, Email, Fax & more.
Detecting Fraudulent Checks
Send Checks via Postal Service.
Managing Payrolls.