Send Payment
Send Payment effortlessly via internal transfer, ACH, check, Wire, gift card, or to another debit card. It makes paying for goods and services easy without worrying about carrying cash or writing checks.
Online Check Writer
Key figures
4,000+
New Customers a Week
50,000+
Transactions per Week
How to Send Payment?
Choose the payment method that best suits your needs, and we will take care of the rest. Whether you need to make a one-time payment or set up a recurring payment plan, we can help you find a solution that works for you. With our new system, there are no more excuses for being unable to pay back!
Choose Contact
Select the contact from which you need to send payment.
Select Payment method
You can select the payment method from the drop-down, enter the necessary details, and click the send button to initiate payment.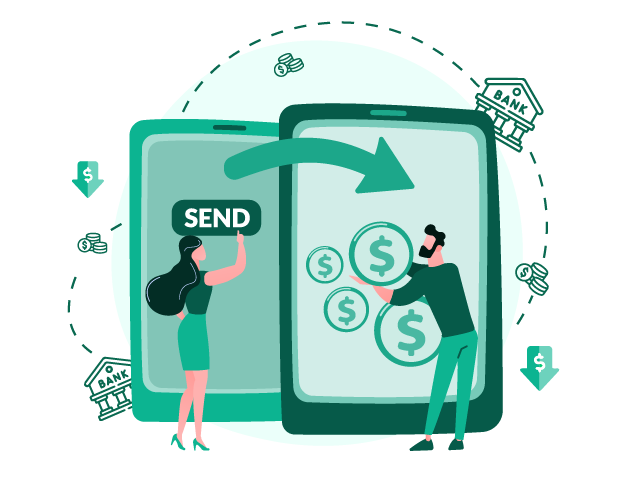 Check Printing
Create and print business checks at your office desk with a drag and drop design.

Pay By Credit Card
Now pay by credit card even if they don't accept them.

Cloud Bank
Open an online bank account with no hidden charges.

Check Mailing
Check mailing without leaving your desk for $1.25. We print and mail it by USPS/FedEx.

ACH / RTP
Pay or get paid one-time or recurring ACH/RTP with low transaction fees.

Wire Transfer
Transfer money electronically from one financial institution to other.

Email Check
Send your checks as a one-time printable pdf with a tracking facility.

Digital Checks
Digitize your paper checks and make your payments via emails or text.

Integration
Integrate with the top third-party applications.

Deposit Slips
Instantly create & print the deposit slip of any Bank. Keep track & auto reconcile it.

Payment Link
Create a HTML form or link to receive payments.

Bank Data
Connect & reconcile, Categorize from Any Financial Institution automatically.

Bill Pay / Vendor
Pay Bills Online, Schedule them, Manage suppliers, and reduce risk.

Invoicing
Create invoice to your customer and send link through email.

User / Approver
Give access to accountant or clients with a role based user and approval process.

API / White Label
Interactive developer-friendly API. Complete white label solution.
Banks and Accounting Software Integrations
OnlineCheckWriter.com is integrated with 22000+ banks and other financial institutions in the USA and Canada. The merging with banks will prevent forged checks. Also, you can connect multiple bank accounts associated with your business and reconcile all bank data with our software. You can also print your checks of any bank, including Bank of America checks, Chase business checks, and many other banks. We also integrated with QuickBooks accounting software. Businesses and individuals can import checks from QuickBooks and print them using the check printing software.
FREQUENTLY ASKED QUESTIONS
How do I send an online payment?
You can send an online payment easily via internal transfer, ACH, Wire, or gift card with OnlineCheckWriter.com at a low transaction cost.
How to send ACH payment?
ACH payment processing is processed in two ways: debit and credit, and an electronic request is sent to the bank for any payment transaction. A third-party processor provides the tools for businesses to make this possible. The vendor receiving the funds gets authorization for the ACH transaction from the purchaser. Moreover, the ACH payments operator (FED) receives electronic entries and debits/credits from respective banks. Then the purchaser's bank records the transaction on the purchaser's account. Additionally, ACH is easy & secure with OnlineCheckWriter.com.
What is the safest way to send payment?
You can securely send payment via internal transfer, ACH, check, Wire, gift card, or to another debit card. With OnlineCheckWriter.com, you can be stress-free regarding your payments.
ACH Payment vs Wire Transfer
The wire transfer process starts and ends with banks, while the Automated Clearing House uses a clearing house as its middleman between parties, which reduces the risk for both sides since all transactions go through one entity rather than being handled manually in different locations. ACH payments are comparatively less expensive. With OnlineCheckWriter.com, you can enjoy hassle-free ACH payment processing.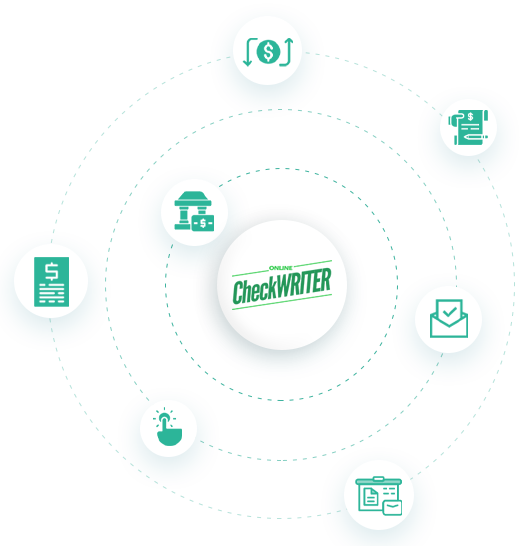 YOUR PERFECT ACCOUNTING SOLUTION
Cutting Cost by Allowing Businesses to use

B

lank Check Stock over Pre-Printed Checks.
A single platform to connect all your bank accounts.
Accept Payments by Phone, Email, Fax & more.
Detecting Fraudulent Checks
Send Checks via Postal Service.
Managing Payrolls.