International Wire Transfer
International Wire Transfer feature allows you to transfer money from your bank account to another in a different country. The quickest and most secure way to transfer money from one country to another is through international wire transfer. You can send huge amount of funds and easily convert the currency as needed. In addition, the cloud-based platform offers printable checks, eChecks, Direct Deposit, or RTP, and $1.25 check mailing services in the all-in-one platform at low transaction fees.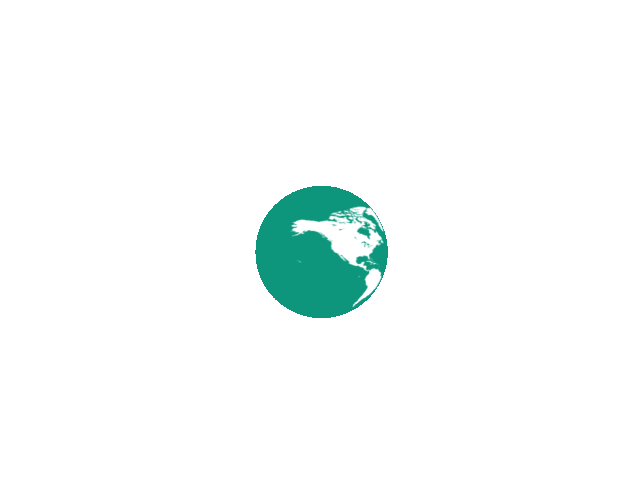 TRUSTED BY MILLION PLUS USERS
5000+
new customers per week
22K+
transactions per week
Make International Wire Transfer with OnlineCheckWriter.com
With OnlineCheckWriter.com, international money transfers can be made from your couch. You can follow these quick steps for sending a transfer:
Go to onlinecheckwriter.com, find the wire transfer option
You have no transfer limit with Online Check Writer
Provide bank details of the receiver
Enter the amount and currency type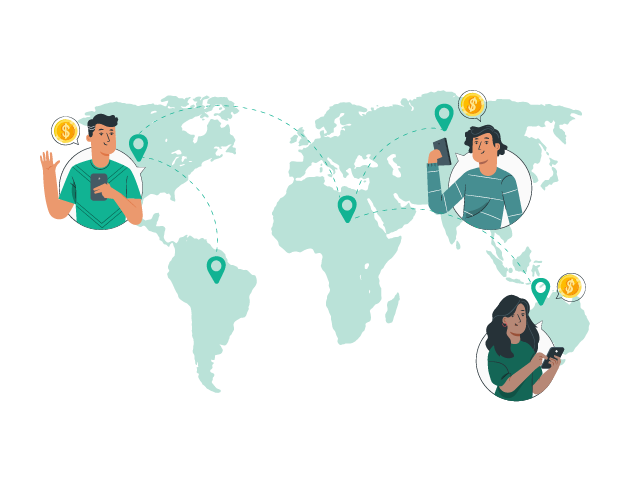 Check Printing
Create and print business checks at your office desk with a drag and drop design.

Pay By Credit Card
Now pay by credit card even if they don't accept them.

Cloud Bank
Open an online bank account with no hidden charges.

Check Mailing
Check mailing without leaving your desk for $1.25. We print and mail it by USPS/FedEx.

ACH / RTP
Pay or get paid one-time or recurring ACH/RTP with low transaction fees.

Wire Transfer
Transfer money electronically from one financial institution to other.

Email Check
Send your checks as a one-time printable pdf with a tracking facility.

Digital Checks
Digitize your paper checks and make your payments via emails or text.

Integration
Integrate with the top third-party applications.

Deposit Slips
Instantly create & print the deposit slip of any Bank. Keep track & auto reconcile it.

Payment Link
Create a HTML form or link to receive payments.

Bank Data
Connect & reconcile, Categorize from Any Financial Institution automatically.

Bill Pay / Vendor
Pay Bills Online, Schedule them, Manage suppliers, and reduce risk.

Invoicing
Create invoice to your customer and send link through email.

User / Approver
Give access to accountant or clients with a role based user and approval process.

API / White Label
Interactive developer-friendly API. Complete white label solution.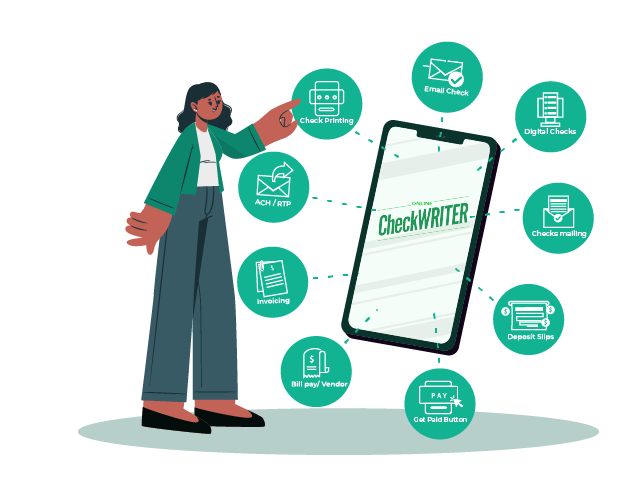 You have More Than Enough From Us
Check printing software saves 80% of your check printing cost by printing checks on blank stock papers. You don't have to order pre-printed checks from third parties for a substantial amount. You can design and customize your checks in the office with any printer at any time using the check printing software for free.
Why OnlineCheckWriter.com?
OnlineCheckWriter.com makes managing your finances easier by offering a variety of online bill payment solutions, empowering you to take charge of your budget. You'll find that handling your finances is lot easier if you take the time to create a budget and set up automated payments for regular items.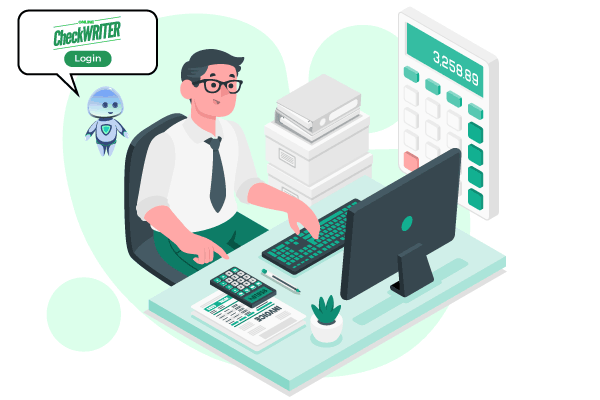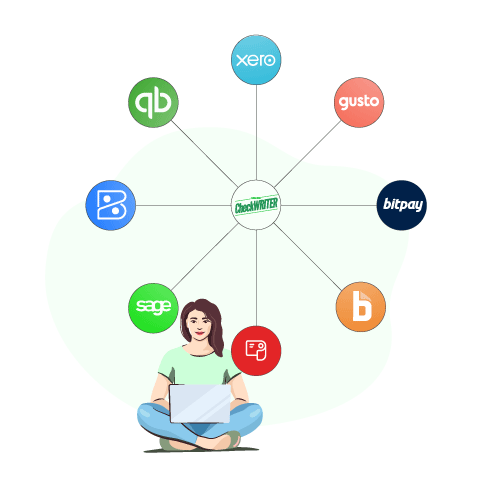 Integration with Banks and Accounting Software
With more than 22,000 banks and other financial institutions integrated, OnlineChecKwriter.com enables you to connect various bank accounts and their check forms. Additionally, this platform has tools for bank reconciliation and security measures against potentially fraudulent checks drawn on your account.
Additionally, OnlineChecKwriter.com has integrated accounting software so you can import and print checks straight from the website. You can easily print payroll checks to pay your employees by integrating with Zoho, Gusto, and QuickBooks.
FREQUENTLY ASKED QUESTIONS
How do I receive an international wire transfer?
OnlineCheckWriter.com helps you to conduct international wire transfers at affordable costs. To receive an international wire transfer, you'll need to be able to provide the sender with some basic information about your bank account, such as:
•Your full name and details
•Your account number and account type
•Your bank type and details
•Transfer amount
How long does an international wire transfer take?
OnlineCheckWriter.com is an affordable, quick, safe international wire transfer service provider. International wire transfers can take up to five days, depending on the destination and when you send the transfer. Transfers within the US usually take less than 24 hours.
Is there a limit on international wire transfers?
Unlike other service providers, OnlineCheckWriter.com has no limits on international wire transfers. Therefore, you can do international and domestic wire transfers easily at very affordable costs with us.
International Wire Transfer and SWIFT
Society for Worldwide Interbank Financial Telecommunication (SWIFT) provides the foundation for secure financial transactions by enabling banks worldwide to securely send and receive transaction data. Wire transfer is a method of paying bills or transferring money electronically from one account to another. With OnlineCheckWriter.com, you can seamlessly transfer your funds via Wire.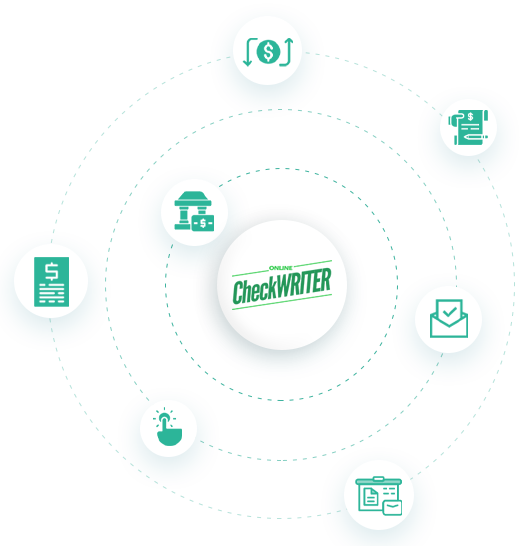 YOUR PERFECT ACCOUNTING SOLUTION
Cutting Cost by Allowing Businesses to use

B

lank Check Stock over Pre-Printed Checks.
A single platform to connect all your bank accounts.
Accept Payments by Phone, Email, Fax & more.
Detecting Fraudulent Checks
Send Checks via Postal Service.
Managing Payrolls.