Virtual Card API
Take Control of Your Spending Limits with Virtual Card API
Virtual Card API offers a sophisticated solution to generate unique virtual cards for your customers seamlessly. This state-of-the-art feature enables you to generate multiple cards for the same account, giving you flexibility and control over how your customers interact with your services. The API also grants you the authority to define the spending limits on these cards, ensuring safety and preventing overspending.
Moreover, if the need arises, you can cancel the card, providing an extra layer of security. This robust functionality from OnlineCheckWriter.com is geared towards empowering businesses to offer their customers innovative and secure virtual payment options.
Effortless and Secure Transactions
The virtual card API provided by the Cloud Bank of OnlineCheckWriter.com are the perfect solution for securely and safely conducting online payments. Functioning similarly to a physical card without the necessity of a tangible counterpart, these virtual cards significantly reduce the risk of fraud due to their non-physical nature. Whether on your phone or smartwatch, your virtual card is always with you, ready for use at your convenience. Plus, the ability to temporarily lock your card via a mobile app offers an added layer of control over your transactions, ensuring a banking experience that is as simple as it is safe.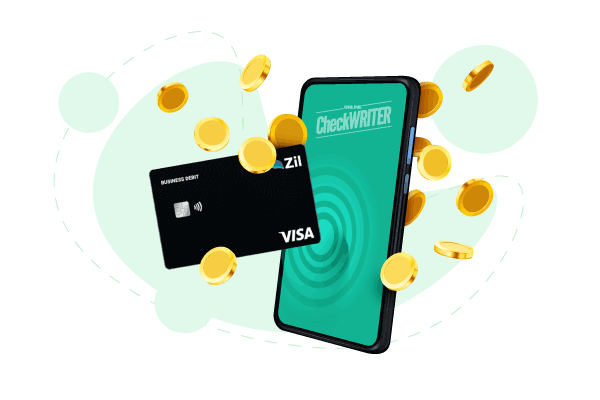 Multiple Cards
You can get multiple virtual cards using the virtual card API for your business on a single account. You can issue these cards to your multiple employees with spending limitations. It helps you to keep a firm hold on your budget when making business payments. Also, it will help the team members know exactly how much money is available.
Issuing multiple cards to specific team members will also help you reconcile expenses made by each member easily. Identifying the right team member to ask for receipts for given transactions is easy, saving much time.
Easy To Access
Instant access to your account anywhere, anytime.
High Security
Secured with Encryption, Fraud Detection, and Infrastructure.
Easy Payment
Efficiently transfer funds to where they're needed.
Integration with Banks and Accounting Software
OnlineCheckWriter.com seamlessly integrates with over 22,000 banks and financial institutions across the United States and Canada, establishing a comprehensive network to combat fraudulent checks effectively. By connecting with nearly every bank in the USA, the platform provides an added layer of security to safeguard against fraudulent activities. Furthermore, the platform consolidates all your bank accounts and financial institutions into a single centralized location, simplifyingthe process of reconciling checks and deposits with their respective banks.
Additionally, OnlineCheckWriter.com offers seamless integration with popular accounting software such as QuickBooks, Gusto, and Zoho. This integration empowers you to import and print checks directly within these accounting platforms. Whether you send eChecks or physical checks via mail, OnlineCheckWriter.com provides the necessary tools to streamline the process, enhancing convenience and efficiency in managing your financial transactions.
MULTIPLE FEATURES, ONE PLATFORM
CONNECT ANY BANK, PREVENT FORGERIES
OPEN A MODERN BANK ACCOUNT WITH ZIL
Cross Platform Support
Experience the versatility of our application across your preferred platforms. Install the mobile application on your devices and enjoy its features from any location. With a user-friendly interface, this platform efficiently handles all your financial matters, conveniently consolidating them under one roof on your smart devices.
FREQUENTLY ASKED QUESTIONS
How to use virtual card?
By adding it to Apple Pay or Google Pay, you can use a virtual debit card like a physical card to make online purchases and contactless payments in stores. Sign up on OnlineCheckWriter.com's cloud bank and get it as soon as you apply for it.
How to create virtual card?
You can create multiple cards using the virtual card API. Sign up on OnlineCheckWriter.com's cloud bank cloud account, go to cloud bank, select Bank account, and click Manage Cards. Then click New Card, and select Virtual Card. Provide the cardholder's name, transaction limit, billing address, and mailing address, then click Submit. You get it immediately after you apply for it. Start using your it for online payment using contactless technology.
Can you use virtual card in store?
Yes, you can use a virtual card to make contactless online in-store payments. OnlineCheckWriter.com's cloud bank lets you apply for multiple virtual debit cards for your business on a single account. You can issue these cards to your employees with spending limitations.
Virtual Card vs Physical Cards
Customers and companies use virtual cards for online purchases, subscription management, and one-time purchases. They have all the properties of a physical card, including 16-digit numbers, a CVC, and a Pin Code. At the same time, physical debit cards are regular plastic cards primarily used for in-person payments. A Virtual debit card is more secure and protects your account from data breaches and fraud.
You will love OnlineCheckWriter.com. We are sure.
We are confident to offer a 15-day free trial.
No credit-card required for free trial.
Trial period comes with full features: unlimited checks, bank accounts, users/ employees, etc.