Receive Payment
Receive Payments the way you want – eChecks, credit or debit cards, or ACH transfers. The user-friendly platform makes it simple to create invoices with just one click. You can save time by instantly sending invoices and collecting payments from customers. The platform also allows you to customize the colors and logos of the invoice to match your brand's style. Additionally, you can easily send invoices via email or text, eliminating the need for any further delays. With OnlineCheckWriter.com, you can eliminate manual invoice creation and payment collecting headaches and streamline your payment process.
Online Check Writer
Key figures
4,000+
New Customers a Week
50,000+
Transactions per Week
Smart Invoice Automation Solution
With the automation service, you can now ensure timely payments at all times. OnlineCheckWriter.com offers professional invoicing and a range of payment methods, including credit cards and direct deposits, making payment a seamless process and putting you in control.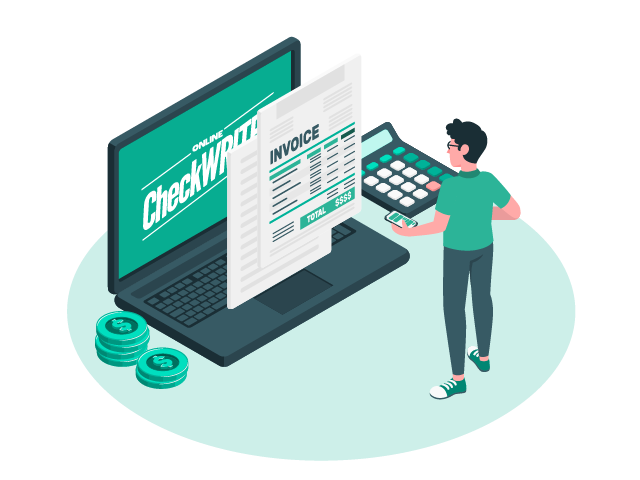 Check Printing
Create and print business checks at your office desk with a drag and drop design.

Pay By Credit Card
Now pay by credit card even if they don't accept them.

Cloud Bank
Open an online bank account with no hidden charges.

Check Mailing
Check mailing without leaving your desk for $1.25. We print and mail it by USPS/FedEx.

ACH / RTP
Pay or get paid one-time or recurring ACH/RTP with low transaction fees.

Wire Transfer
Transfer money electronically from one financial institution to other.

Email Check
Send your checks as a one-time printable pdf with a tracking facility.

Digital Checks
Digitize your paper checks and make your payments via emails or text.

Integration
Integrate with the top third-party applications.

Deposit Slips
Instantly create & print the deposit slip of any Bank. Keep track & auto reconcile it.

Payment Link
Create a HTML form or link to receive payments.

Bank Data
Connect & reconcile, Categorize from Any Financial Institution automatically.

Bill Pay / Vendor
Pay Bills Online, Schedule them, Manage suppliers, and reduce risk.

Invoicing
Create invoice to your customer and send link through email.

User / Approver
Give access to accountant or clients with a role based user and approval process.

API / White Label
Interactive developer-friendly API. Complete white label solution.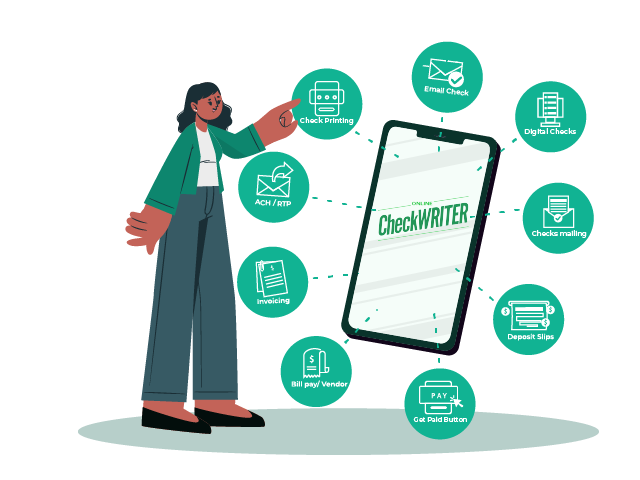 All-In-One Mobile App
OnlineCheckWriter.com is a simple and secure way to process ACH payments, direct deposits, or RTP. You can pay or get paid using printable checks and eChecks on our all-in-one platform, with low transaction fees. Getting started with our app is easy, with all our web features and functions available, allowing you to run your business seamlessly on the go.
FREQUENTLY ASKED QUESTIONS
How do I receive payment?
You can receive payments online by Card, ACH, and other payment methods. OnlineCheckWriter.com accounting software for small businesses helps you create, customize invoices, and receive payments online from customers by card or check.
How do I collect payments online?
With OnlineCheckWriter.com accounting software, you can accept payments online. Create invoices, fill them out with items, discounts, tax rates, and line items, and send them to consumers along with a payment link. OnlineCheckWriter.com accepts payments using a variety of methods, including ACH, credit card, and check.
How do I accept payments for my business?
You can accept payment for your business with multiple payment options,
1. Credit Cards and Debit Cards
2. ACH
3. Recurring Bills or Subscriptions
4. Online Payment Devices and Tools
5. Contactless Payments
With OnlineCheckWriter.com, you can generate invoices and create Get paid links, which you can send to customers as SMS or email to receive payments from anyone with a single click through a check, card, PayPal, Stripe, or Bitpay. Receive payments, donations, and rent with get paid by payment links.
Accounts Receivable vs Accounts Payable
The amounts owed by a company to suppliers and other creditors for goods or services that were purchased and billed are known as accounts payable. Accounts receivable, on the other hand, refers to the money that a business expects to receive from clients or customers in compensation for services rendered. OnlineCheckWriter.com can help you manage your money effectively.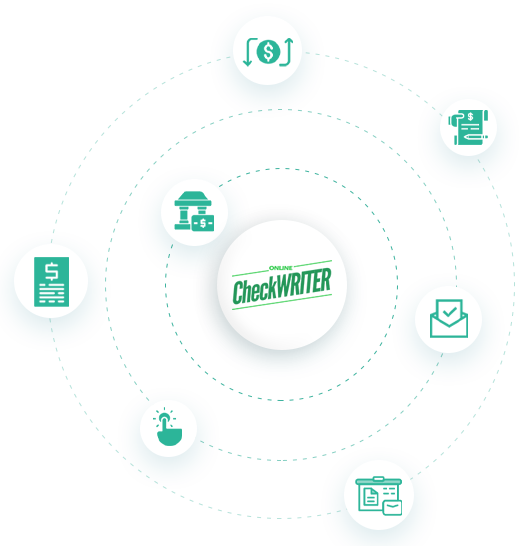 YOUR PERFECT ACCOUNTING SOLUTION
Cutting Cost by Allowing Businesses to use

B

lank Check Stock over Pre-Printed Checks.
A single platform to connect all your bank accounts.
Accept Payments by Phone, Email, Fax & more.
Detecting Fraudulent Checks
Send Checks via Postal Service.
Managing Payrolls.