ACH Payment once or recurring, at low transaction cost using OnlineCheckWriter.com. Log in to our platform and add your bank account for free and Pay and Get paid by ACH transfers. With our ACH payment processor, businesses can make or accept ACH payments anytime from anywhere through computers, tablets, or smartphones.
Our cloud-based platform also offers Pay and Get paid by printable checks, eChecks, Direct Deposit, or RTP, and $1.25 check mailing services in our all-in-one platform at low transaction fees.
Learn More About ACH Payment
Online Check Writer
Key figures
4,000+
New Customers a Week
50,000+
Transactions per Week
ACH (Automated Clearing House) payments are electronic payments that are debited directly from the customer's checking or savings account for bill payments. ACH payments are directed by a network from one financial institution to another through a secured system run by NACHA (National Automated Clearing House). The ACH Network acts as an economic hub to help people move money from one bank to another.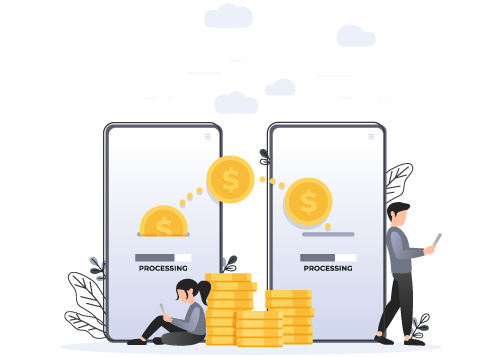 Check Printing
Create and print business checks at your office desk with a drag and drop design.

Pay By Credit Card
Now pay by credit card even if they don't accept them.

Cloud Bank
Open an online bank account with no hidden charges.

Check Mailing
Check mailing without leaving your desk for $1.25. We print and mail it by USPS/FedEx.

ACH / RTP
Pay or get paid one-time or recurring ACH/RTP with low transaction fees.

Wire Transfer
Transfer money electronically from one financial institution to other.

Email Check
Send your checks as a one-time printable pdf with a tracking facility.

Digital Checks
Digitize your paper checks and make your payments via emails or text.

Integration
Integrate with the top third-party applications.

Deposit Slips
Instantly create & print the deposit slip of any Bank. Keep track & auto reconcile it.

Payment Link
Create a HTML form or link to receive payments.

Bank Data
Connect & reconcile, Categorize from Any Financial Institution automatically.

Bill Pay / Vendor
Pay Bills Online, Schedule them, Manage suppliers, and reduce risk.

Invoicing
Create invoice to your customer and send link through email.

User / Approver
Give access to accountant or clients with a role based user and approval process.

API / White Label
Interactive developer-friendly API. Complete white label solution.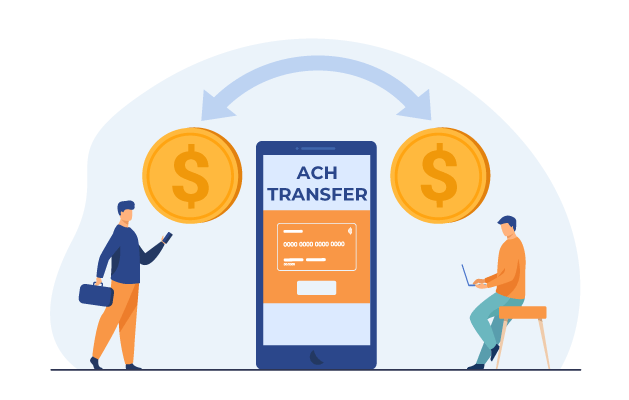 As a direct member of NACHA (National Automated Clearing House Association), the company is now offering processing of ACH at low transaction fees to increase the use of networks among small and medium-sized business enterprises in the US. Usually, banks might charge a transaction fee of around $3 for an ACH transaction.
Easy To Access
Instant access to your account anywhere, anytime.
High Security
Secured with Encryption, Fraud Detection, and Infrastructure.
Easy Payment
Efficiently transfer funds to where they're needed.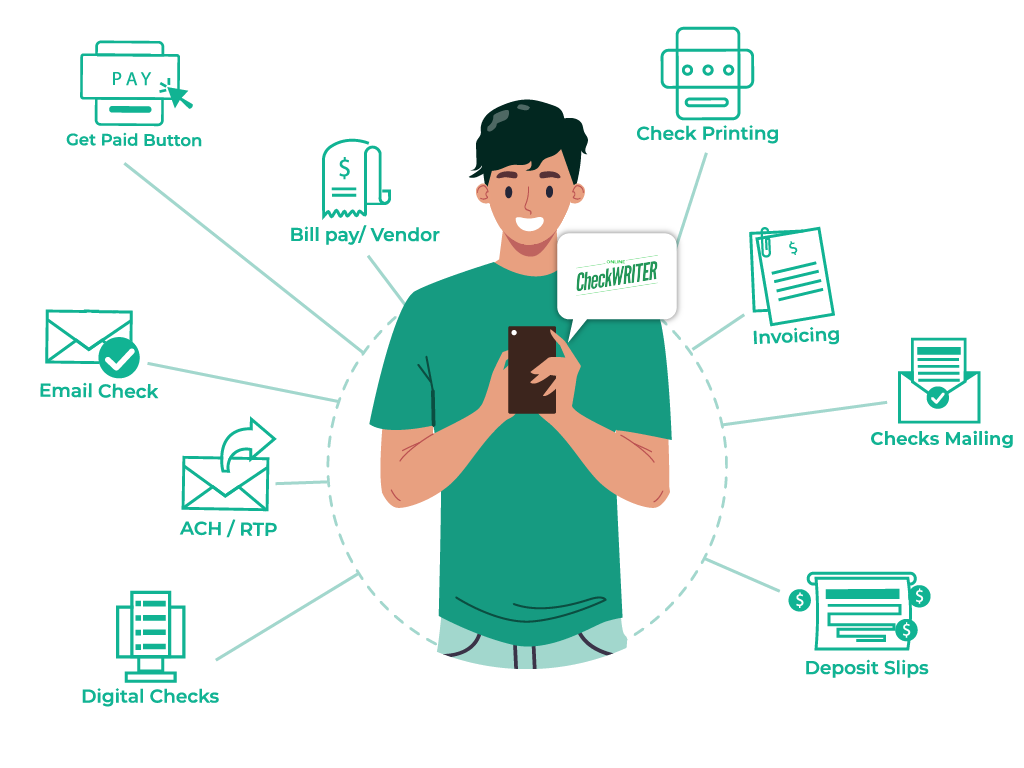 OnlineCheckWriter.com provides a complete financial management solution for businesses and individuals. Its features simplify check printing, mailing, online bill payments, bank reconciliation, and fraud protection. The program also integrates with many banks and accounting applications, making it easy to handle funds. OnlineCheckWriter.com's intuitive user interface and customizable reporting help consumers manage their finances and make intelligent choices. OnlineCheckWriter.com's all-in-one solution is useful for businesses and people seeking a convenient and effective method to handle their funds.
MULTIPLE FEATURES, ONE PLATFORM
CONNECT ANY BANK, PREVENT FORGERIES
OPEN A MODERN BANK ACCOUNT WITH ZIL
ACH and wire transfers are popular electronic money transfer techniques. ACH transfers are cheaper than wire transfers for payroll deposits and regular payments. They take 1-2 business days. Wire transfers are used for big or time-sensitive transactions and have greater costs than ACH payments. Due to the rapid transfer time, fraud and errors are possible. ACH and wire transfer options allow OnlineCheckWriter.com users payment processing flexibility.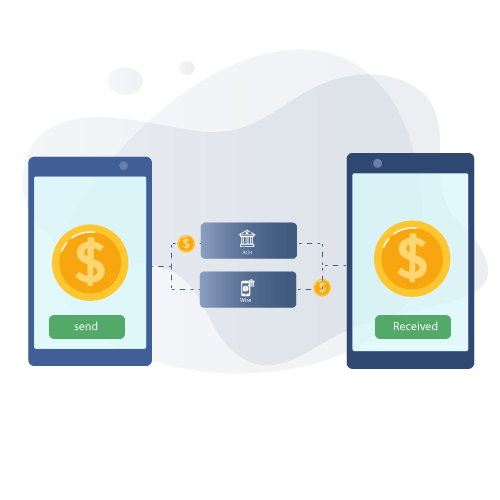 FREQUENTLY ASKED QUESTIONS
What is ACH payment?
ACH payments are electronic payments bank-to-bank that goes through the ACH network (Automated Clearing House). Funds move from one bank to another with the help of a centralized system that directs funds to their destination. It is run by the National Automated Clearing House Association (NACHA). It may support both credit transfers and direct debits. The system is designed to process batches of payments containing numerous transactions and typically charges fees for usage to the business or vendor receiving ACH payments. OnlineCheckWriter.com provides ACH processing with low transaction fees.
How to make an ACH payment?
ACH payment processing is processed in two ways: debit and credit, and an electronic request is sent to the bank for any payment transaction. A third-party processor provides the tools to businesses to make this possible. The vendor receiving the funds gets authorization for the ACH transaction from the purchaser. Moreover, the ACH payments operator (FED) receives electronic entries and debits/credits from respective banks. Then the purchaser's bank records the transaction on the purchaser's account. Additionally, ACH is easy & secure with OnlineCheckWriter.com.
How long does ACH payment take?
ACH payments can take two to three business days to process. With OnlineCheckWriter.com, you can process your payments with utmost ease and security. You can also go for the same-day ACH feature, which lets you process the payment on the same day.
ACH Payment vs Wire
The wire transfer process starts and ends with banks, while the Automated Clearing House uses a clearinghouse as its middle man between parties which reduces the risk for both sides since all transactions go through one entity rather than being handled manually in different locations. ACH payments are comparatively less expensive. With OnlineCheckWriter.com, you can enjoy hassle-free ACH payment processing.
REVIEWS FROM ESTEEMED CUSTOMERS
Here are some precious reviews from G2 – Business Software Reviews. We are pledged to make your life simple with all our features.

"Amazing Platform!"
I must be straightforward that I thought this is simply one more normal programming around the market. Yet, this application has gotten up until this point, and discredit it. I simply love it step by step on how it assists me with doing things helpfully, less exertion, and less the cost. The application itself is extremely simple to utilize and you can do performing multiple tasks with blunder free. Exceptionally supportive and is truly assisting me with accomplishing my business objectives. Much obliged to you and Keep up the great work.

Raymond V

"I'm Satisfied with This Online Check Writer. It's Helpful."
I like this Online Check Writer because it is what we used to do back in those days. It is a traditional way of transactions, especially in banks. I would love to use this online, and I think it is easier to use, especially for everyone busy doing our daily routines. Please consider using this online check writer because this is perfect so you can maximize your time for things that matter to you.

Bryan Mark B

"THE BEST"
It's secure and simple on-demand check printing software that keeps finances safe and in order. This includes the bank's number and address, then make sure it is correct.

Ariane Mae E

"Honest B2B method"
The simplicity of the software is incredible.

Vinicius S
"Check Writing at Ease!"
I am able to write all checks needed online!

Christopher C
"Useful Tool for Financial Control."
Keep a perfect track of my bank accounts and make checks by means of an easy design of templates that allow inserting data and at the same time verify the information reflected in the check, it facilitates my activities to send it through email which allows me to keep a copy of the issued checks and take better planning.

Mariana M
"Convenient Application for Checking Checks as Well as Account Visualization."
Without a doubt it is a good tactic to keep track of the checks we give to a person for later collection, allows the production of checks either blank or pre-designed report loading which makes it easier to prepare the following checks, we can visualize the status of the checks that have been cashed and those that are still pending collection.

Alexander V
"Great"
This is a great check writing software. It makes payroll easy and balancing bank account so much faster. I recommend this for anyone who writes checks for personal or business needs.

Shelly R
"Very Affordable Check Option"
I like the fact that checks can be made at your convenience and you don't have to download software to retrieve your checks. The website also gives you the opportunity to print out deposit slips. You can transfer information from other sites to this site with ease as well.

Kimberly M