Checks for Less supply pre-printed checks, deposit slips and other business banking services on your online order. If you're tired of ordering expensive checks from your bank or waiting for them to arrive in the mail, you'll be happy to know that you can print your own checks at home. All you need is a printer and some blank check stock paper, which you can purchase at any office supply store. Once you have your supplies, simply open up a checking account template online and enter your account information. Then, print out as many checks as you need using Online Check Writer and done! You'll never have to worry about running out of checks again. Plus, printing your own checks is a lot cheaper than ordering them from a bank.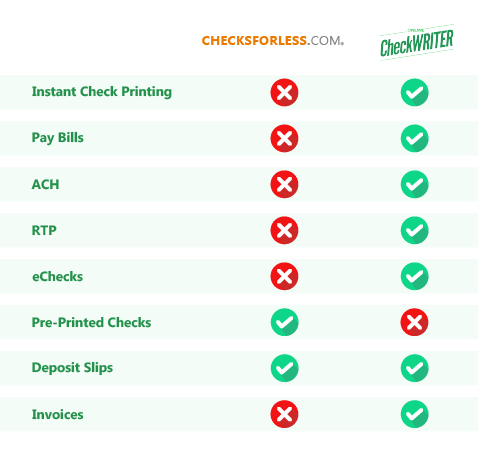 Online Check Writer
Key figures
4,000+
New Customers a Week
50,000+
Transactions per Week
Check Printing Software Over Pre-Printed Checks
When it comes to printing checks, there are two main options: ordering checks from a third-party provider or printing them yourself on blank stock paper. Printing your own checks has a number of advantages. First of all, it's significantly cheaper. Ordering checks from a third-party provider can be quite expensive, particularly for businesses. Printing your own checks can save you up to 80% on check-printing costs.
Printing your own checks is much more convenient. You can print them whenever you need them, and you don't have to wait for them to be delivered. Finally, printing your own checks gives you more control over the design and layout. With a third-party provider, you're limited to the designs they offer. If you print your own checks, you can choose any design you want. So, if you're looking to save money and have more control over the design of your checks, printing them yourself is the way to go.
Security Assured
Online Check Writer is the best check printing software in the market with nods from Forbes, American Express, HuffPost, etc. Customers use the software for its top-notch security features that protect businesses from fraud and embezzlement. One of the most popular features is the ability to create and print blank checks. The cloud based software secures your data and protects it from reaching wrong hands. As a result customers can have peace of mind knowing their checks are safe and secure.
Save with Online Check Writer
The easiest way to get your hands on some cheap checks is to find a financial institution that will give you free checking. Some banks offer free checking if you maintain a certain balance in your account, while others will waive the fee if you have direct deposit set up. Once you've found a bank that offers free checking account, all you need to do is order your checks from them. Most banks will allow you to order your checks online, and you can usually get them for a very reasonable price. In fact, many banks will even give you a discount if you order your checks in bulk. So, if you're looking for a way to save some money on your checking account, be sure to look into getting free checking and ordering your checks in bulk. But, pre-printed checks can be a costly investment, depending on how customized your data is. For example, if you have a lot of information that needs to be included on the check, it can cost $50-$80 per 250 checks.
Online Check Writer offers high quality blank check stock to help you print checks at your convenience. Unlike pre-printed checks, blank check stock is safe to keep in an easily accessed place without the worry of would-be thieves. With Online Check Writer, you can print checks from the comfort of your own home or office using our easy-to-use check printing software. OCW offers the highest quality blank check stock to help you print checks at your convenience.