Implementing an all-in-one check printing and mailing solution can simplify your business' check management. For example, Online Check Writer has more features, including ACH processing, bill payment, online invoicing, and more. Your business will not need to depend on multiple software platforms; instead, use OnlineCheckWriter.com as an all-inclusive solution!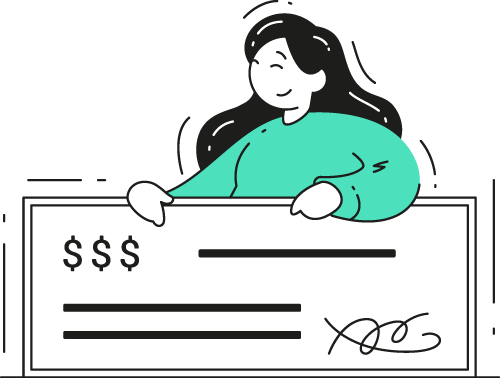 Checks are not documents that allow a lot of creativity. Nevertheless, having an option to customize their appearance is a bonus. The templates won't change much, no matter the level of customization available. You can still play around with varying backgrounds, add logos or watermarks, and remove unnecessary fields.
Companies use a variety of accounting systems to manage their finances; you can get check printing software for free. They also utilize the printing of checks and other such information to take care of business-related activities. That's why it helps to have integrations for check printing because it will make your job easier.
Online Check Writer
Key figures
4,000+
New Customers a Week
50,000+
Transactions per Week
A Look at Check Printing Software
Check printing software comes from programs that let you create, set up, and customize checks. You can also fill out, print, and send physical or digital copies by mail, fax, and email. It eliminates the need for a traditional checkbook or pre-printed bank checks.
A vital benefit of the best check printing software packages on the market is that you need not use any special ink to print Magnetic Ink Character Recognition (MICR) numbers. The MICR numbering system has been a standard method for checking banks to recognize and process checks from another bank when imprinted with numbers specific to each financial institution's routing number and account number found in their accounting databases.
If you typically use physical checks for your business, there are two options for creating them. Either use blank stock paper or purchase an inkjet or laser printer to print them out, or send your suppliers a digital image of your checks using an electronic payment service. This last option is the easiest, but it does mean that the check is sent digitally and not in physical form.
Today, payroll departments of every size use online programs. For example, they can make receiving wages much easier for small businesses because they don't need company checks to operate. They're 100% legal to use as long as you comply with requirements set by financial institutions. They are used by organizations and accounting firms across the country.
Top Features Every Check Printing Software Needs
Several factors come into play when determining the features every check printing software must-have:
Customizability makes a big difference: The ability to customize checks makes it possible for you to have both a functional and an aesthetically pleasing product.
Scope of printing checks: If you want to create checks for purposes other than writing checks, MICR printing capability is not necessary to adhere to the law.
Consolidation: Count on having the best tools to do all your accounting. To achieve maximum results and productivity, you must ensure that your accounting program is compatible with other software, such as customer relationship management (CRM), project management software, and marketing automation software.
Congruity: There are a lot of options that work on your desktop, hand-held devices, and through the web. As per the Check 21 Act, you can print checks using any printer.
How Much to Spend on Check Printing Software Programs?
Generally speaking, the best check printing software will cost anywhere from $0 to hundreds of dollars. So the answer depends on what you need and what program you select. There is an extensive price range for the best check printing software, whether it's free or costs up to $200.
Check printing software free is effortlessly available with a military-grade protected cloud server from Online Check Writer. Using this free check printing software, you can print checks online instantly on-demand, thus reducing the chances of running out of checks. Now you need not order pre-printed checks from banks and third parties, which cuts 80% cost of ordering pre-printed checks. You can print checks on blank check stock or regular paper using any printer.
Use of Blank Stock Printing
Check printing software can help print checks on blank stock paper. This can help reduce the amount of paper used and help save money on the printing costs. The software can also help with check security by ensuring that only authorized personnel can access and print the checks. Additionally, the software can help track when checks are printed and deposited and keep a running total of how much money is in the account.
Check Printing Software Free
Online Check Writer allows you to try the software free for 15 days. This is the best check writing software for small businesses, and it comes with a wide variety of features that help you manage your finances.
Some of the features of this software include:
-Print checks from your computer
-Integrate with QuickBooks or other accounting software
-Track payments and print reports
-Customizable
-Print checks on plain paper or check stock
-Security features to protect your account
-15-day free trial version
-Check printing software cost
-Print on blank check paper
Switch to Online Check Writer and experience hassle-free check printing.