Restaurant Industry Payments: Enhance Your Cash Flow With An Affordable Payment Solution
Restaurant Industry can use the pay by credit card feature of the payment platform, enabling users to pay with no merchant fees. The payment can be received through wire transfer, check, or ACH, even if the payee doesn't accept credit cards. The flexible revolving credit option allows individuals and business to meet their financial requirements at the right time. The revolving credit account covers expenses, with a monthly payment, based on spending. The account holder can utilize and pay off the revolving credit account as needed as long as the account remains active.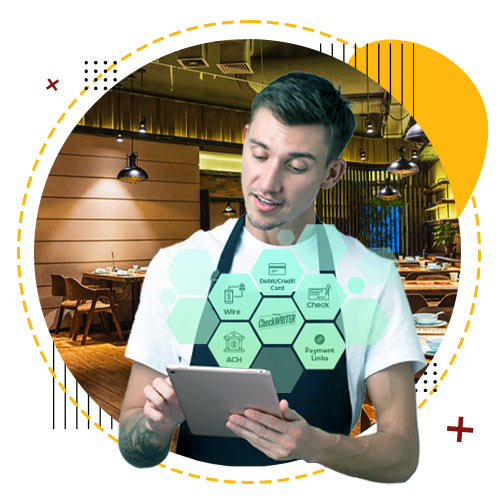 Revolutionizing Restaurant Payments: Innovative Solutions for Modern Dining
The restaurant industry can use the payment link feature, check, and credit/debit cards to simplify customer payment processes. The platform takes care of the payment issues like the high processing fees, the complexity of managing cash and card payments, security concerns of digital payments, etc. OnlineCheckWriter.com offers a payment link feature, allowing merchants to request payments from payers using customizable links for instant, convenient, and flexible payment options. Despite the rise of digital payments, checks are still widely used in many countries, and OnlineCheckWriter.com facilitates check transactions for convenient and effortless payments. Credit and debit cards are convenient payment options that allow consumers to purchase goods or services using borrowed money or their funds. The accounting platform's Pay by Credit Card feature will enable you to pay vendors without merchant fees, even if they don't accept credit cards.
No More Payment Inconvenience
OnlineCheckWriter.com simplifies business transaction management and reduces expenses with its cost-effective and user-friendly online payment platform. Users can enjoy a risk-free experience with the "Pay As You Go" option. Various payment options include checks, ACH transfers, payment links, credit card payments, international payments, wire transfers, and other services. The platform provides comprehensive transaction records and detailed data to manage finances and simplify tax reporting and payment processing efficiently. A customized payment solution to highlight your brand identity is also provided. The payment software's reliable customer support and effective client information management cater to businesses of all sizes, from small to large.
FREQUENTLY ASKED QUESTIONS
What are the different ways of paying at a restaurant?
You can pay at a restaurant with cash, checks, debit or credit cards, mobile payment, payment links, and online payment. OnlineCheckWriter.com offers secure and convenient ways to pay with pay by credit card, payment links, checks, etc.
Can I use a credit card to pay at a restaurant?
Yes, OnlineCheckWriter.com's Pay by Credit Card feature enables seamless payment processing within the restaurant, even if they don't accept credit cards.
How does an electronic payment system work?
Electronic payment systems use digital technology to transfer money between parties. OnlineCheckWriter.com lets its customers send and receive money digitally hassle-free via ACH, wire transfer, eChecks, payment links, pay by credit card, etc.
Credit Card Payment vs Bank Transfer
Credit card payment is quick and convenient and comes with interest charges. A bank transfer is more cost-effective but may take longer to process. With OnlineCheckWriter.com's Pay by Credit Card, restaurants can process payments smoothly, even if they do not accept credit cards. Also, there are no merchant fees.
5000+
New Customers Per Week
22K+
Transactions Per Week