Shipping Label
Shipping Label creation is now at your fingertips! The user-friendly platform lets you design and print one in just a few clicks. So say goodbye to the hassle of traditional methods and embrace the convenience of this streamlined process, ensuring your packages are accurately labeled and ready for smooth delivery.
TRUSTED BY
MILLION PLUS
USERS

Rated check printing software
in the QuickBooks app store

Banks & Financial Institutions
are Connected
How to Create a Shipping Label?
Step 1
Log in to OnlineCheckWriter.com and select shipping label from the business tools section.
Step 2
Enter the from and return address.
Step 3
Fill in the parcel dimensions – length, width, height, and weight.
Step 4
Choose the carrier and rate.
The shipping label for your packages is ready.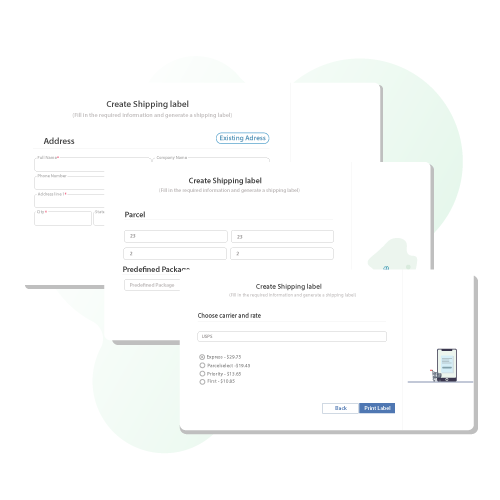 Check Printing
Create and print business checks at your office desk with a drag and drop design.

Pay By Credit Card
Now pay by credit card even if they don't accept them.

Cloud Bank
Open an online bank account with no hidden charges.

Check Mailing
Check mailing without leaving your desk for $1.25. We print and mail it by USPS/FedEx.

ACH / RTP
Pay or get paid one-time or recurring ACH/RTP with low transaction fees.

Wire Transfer
Transfer money electronically from one financial institution to other.

Email Check
Send your checks as a one-time printable pdf with a tracking facility.

Digital Checks
Digitize your paper checks and make your payments via emails or text.

Integration
Integrate with the top third-party applications.

Deposit Slips
Instantly create & print the deposit slip of any Bank. Keep track & auto reconcile it.

Payment Link
Create a HTML form or link to receive payments.

Bank Data
Connect & reconcile, Categorize from Any Financial Institution automatically.

Bill Pay / Vendor
Pay Bills Online, Schedule them, Manage suppliers, and reduce risk.

Invoicing
Create invoice to your customer and send link through email.

User / Approver
Give access to accountant or clients with a role based user and approval process.

API / White Label
Interactive developer-friendly API. Complete white label solution.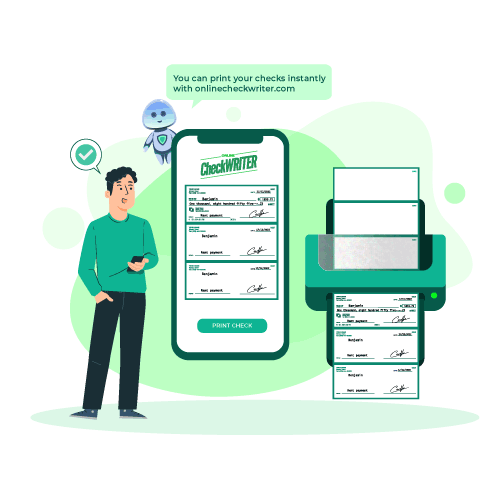 Check Printing Software for Business
The cloud-based check printing software is committed to making your business easier. Companies can link multiple bank accounts to manage their business activities on this platform.
Moreover, the payroll check printing software helps you manage your employees' paychecks on one platform. You can print or send payroll checks to all employees with a single click. You can also connect your bank accounts to print checks and deposit slips, send eChecks, get paid links, pay by credit card, and more.
FREQUENTLY ASKED QUESTIONS
How much does shipping labels cost?
The cost of a shipping label depends upon the carrier chosen. With OnlineCheckWriter.com, you can easily create a shipping label at an affordable price.
Can I print a check online?
You can print checks using the cloud-based check printing software OnlineCheckWriter.com in the comfort of your home/office. Printing checks on blank check stock or plain white paper using any printer.
Is it illegal to print a check?
No, Thanks to the Check 21 Act, printing checks from your printer is perfectly legal. In addition, you can connect your bank accounts to print checks and deposit slips, send eChecks, get paid links, and more with OnlineCheckWriter.com.
Packing Slip vs Shipping Label
A packing slip is a record detailing the items included in a shipment and is placed inside the parcel for the customer's convenience and reference. A shipping label affixed to the exterior of a parcel provides crucial information for carriers and shipping companies to guarantee the package reaches its intended destination. With OnlineCheckWriter.com, you can easily create a shipping label in a few clicks.
You will love OnlineCheckWriter.com. We are sure.
We are confident to offer a 15-day free trial.
No credit-card required for free trial.
Trial period comes with full features: unlimited checks, bank accounts, users/ employees, etc.