Checks book is a necessary financial tool that helps you keep track of your checking account balance and transactions. They are an essential part of any business, and printable checks book can help you save time and money. With Online Check Writer, you can print checks instantly on-demand at anytime, anywhere. Get some blank check stock or plain white paper and start printing checks yourself on a regular printer. Also, it is very economical and time-saving compared to ordering pre-printed checks. You can customize the checks by adding your business logo and other details using the drag and drop design. So, whether you are a small business owner or a large corporation, checks book can be a great way to save time and money.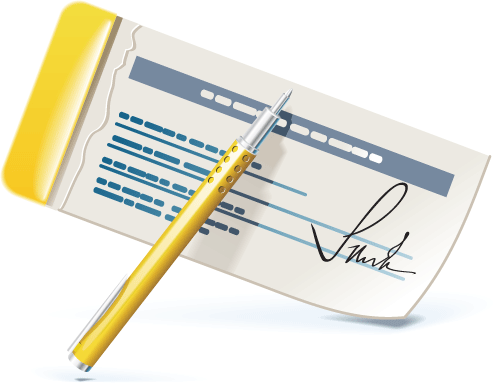 Online Check Writer
Key figures
4,000+
New Customers a Week
50,000+
Transactions per Week
There are many reasons why you might need to keep track of your finances using a checks book. Perhaps you're trying to budget your money more effectively, or maybe you need to keep a record of all your transactions for tax purposes. Regardless of your reason, checks book can be invaluable in managing your money.
You may be looking for ways to save money as a business owner. One option is to write checks from your computer. There are several benefits of using Online Check Writer. First, it is cheaper than buying checks from a bank or third parties. You also have more design options to create checks that match your branding or style. Additionally, Online Check Writer makes it easy to keep track of your expenses and budget. Finally, they are convenient – you can access your account from any computer with internet access.
Having checks book is essential to keeping track of your finances, but having multiple bank accounts can be challenging to keep everything organized. Online Check Writer offers a solution by combining all your accounts into one platform. You can record your transactions in a digital check register, and the integration with 22000+ banks make it easy to reconcile your accounts and prevent fraud. In addition, the checks book printable feature makes it easy to keep track of your checks and ensure that you always have enough on hand. With Online Check Writer, balancing your finances is easier than ever.
Any business or individual who writes checks frequently can save money by printing checks on blank check stock or regular paper rather than ordering pre-printed checks from a bank or other third-party provider. Although it may take a bit more time to set up the initial check-printing template, the long-term savings are well worth the effort. Not only will you save money on the cost of the checks themselves, but you will also avoid fees for fielding stop payments or replacing lost checks. And if you ever need to change your checking information – such as your account number or routing number – it is much easier and less expensive to update a printable checks template than to order all new checks from a third party. So, if you are looking for a way to cut costs and simplify your check-writing process, switching to Online Check Writer is the way to go!