Check writing software can save you a lot of money on your printing costs. With a regular printer and some blank stock papers, you won't have to spend more than $10 per 100 checks you print using Online Check Writer. Though it may seem like a hassle, printing your checks can be cheaper and more customizable than buying them from the bank. Get familiar with the steps needed for this process, so you know when it's worth taking on such an endeavor!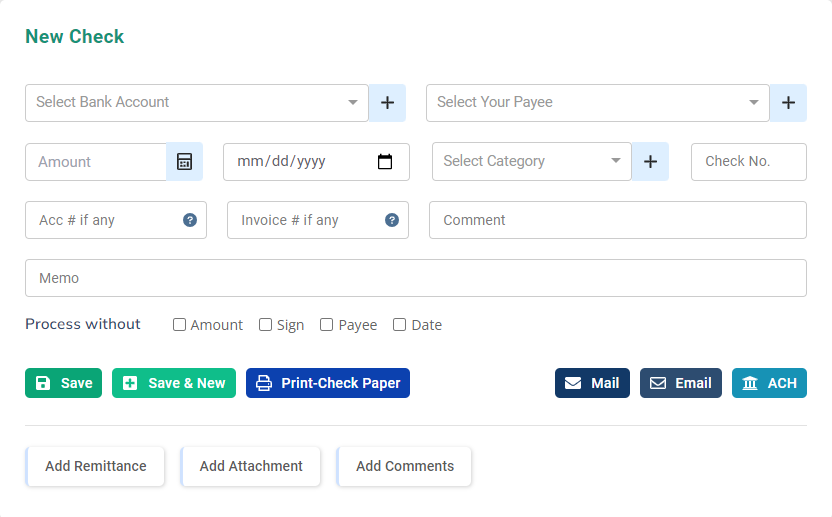 Online Check Writer
Key figures
4,000+
New Customers a Week
50,000+
Transactions per Week
What is check writing software?
Check writing software is a computer application that helps you write checks quickly and easily. You can use check writing software to write checks for your finances, pay your bills, or invest. There are different types of check writing software, so be sure to find the type that best suits your needs.
Why use check writing software?
There are many reasons to use check writing software. The software allows you to quickly and easily write checks. It also allows you to track your finances and keep records of your transactions. Plus, this software can help you save money on your checking account.
How does check writing software work?
There are several different check writing software programs that can help save you time and money. Some programs allow you to create your checks, while others allow you to print out pre-made checks.
Regardless of the software you choose, all of them require that you first enter the information for your checks. This includes the account name, the check number, and the dollar amount. Once this information is entered, the software will generate a check template for you to complete.
Once your check has been created, you must print it and mail it in. You can also deposit the check into your bank account directly from the software. Whichever option you choose, make sure to use a check writing software program so that you can save time and money!
How to get a start with check writing software
Check writing software can be a great way to save money on your expenses. Several different software is available, so it can be hard to decide which is right for you. 
There are a few things to remember when choosing a check writing software. First, what do you want the software to do? Some software allows you to create checks quickly and easily, while others have more features. Second, how much money do you want to be able to write checks? Some software allows you to write checks up to a specific limit, while others offer unlimited check writing. Finally, what type of computer do you have? Some programs are available as desktop applications, while others are available as online applications.
Blank Check Stock 
Blank check stock is designed for printing checks and often comes with additional security features such as micro printing or watermarks. Check paper can be found at office supply stores and online retailers carrying higher quality products than those sold locally while still being affordable. But with Online Check writer, you can print on plain white paper too.
Printable Using Any Printer
Using Online Check Writer, you can print your checks with any printer. Whether it has unique features like watermarks and even thermochromic ink or not, you'll be able to create flawless security documents that meet high standards for authenticity.
Saving Money With Check Writing Software From Online Check Writer
If you're like most people, you probably spend a lot of time writing checks. And if you're like most people, you probably spend a lot of time trying to save money by writing checks efficiently.
Check writing software From Online Check Writer can help you save time and money. Here are three tips for using check writing software to your advantage.
Use check writing software:
to keep track of your spending. This will help you identify where you're spending too much and where you could be saving money.
to write multiple checks at once. This will save you time and avoid the need to complete the process of filling out individual checks.