Deluxe Checks offer a wide variety of designs and colors to choose from. For those in need of a reliable and efficient alternative to Deluxe Checks, Online Check Writer might be the perfect solution. The software offers the same convenience and security as Deluxe Checks, but without the long wait times. Online Check Writer prints checks on-demand, so there's no need to order them weeks in advance. And because they're printed on blank stock paper, they're much more affordable than ordering checks from a third party. Whether you need business or personal checks, the software has you covered.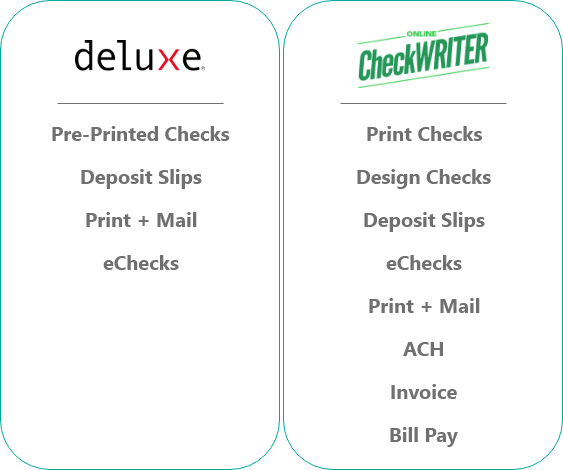 Online Check Writer
Key figures
4,000+
New Customers a Week
50,000+
Transactions per Week
Need for an Alternative
There are different types of checks that people can use.  Deluxe checks usually have more features than a standard check, such as security features and a more interesting design. Are deluxe checks really worth the extra money? 
– Deluxe checks charges extra for customizing the checks while with OCW you can customize checks using the check templates provided or create your own check design without paying an additional cost. 
– Deluxe checks typically cost more money than standard checks. So, if you're on a budget, you can go for the Check printing Software from Online Check Writer. 
– Customer service is an important part of any business, and it should be a top priority for any company that wants to maintain a good relationship with its customers. Unfortunately, it seems as though customer service is often overlooked or given only cursory attention and the pages were difficult to navigate, and the live chat was often unresponsive. The customer service representatives were often unprofessional and unhelpful. As a result, the experience with customer service was less than satisfactory.  
Style Your Checks
Online Check Writer is the best alternative for Deluxe checks. You can upload images of your favorite places, movie characters, or pets and print checks on our software. It also allows you to customize your checks anytime by changing logos, font styles, and check format. 
One way to add personality to your checks is to choose a fun and unique design. There are tons of different designs available, so take some time to browse through all of the options until you find one that you love. You can also add a photo to your checks for a truly personal touch. If you have a favorite photo that you think would look great on your check, talk to your bank about having it printed on your checks. 
Another way to customize the look of your checks is to choose the colors that you want to use. Most banks will allow you to choose between several different color combinations, so take some time to experiment until you find the perfect combination for you. You can also add embellishments like ribbons or stickers to really make your checks stand out. 
Integration with Banks and Accounting Software
When it comes to managing your finances, having a clear and efficient system in place is essential. Choosing the right software for your needs can make all the difference in reducing stress and keeping on top of your finances. Check printing software that integrates with 22000+ banks and financial institutions is a great solution for those who need to connect multiple bank accounts and manage checks format. This type of software also offers bank reconciliation solutions, as well as preventing fraudulent checks from hitting your account.  
Integration with QuickBooks, Gusto, and Zoho accounting software also helps you import checks to the platform. You can either print them on blank checks or send them as eChecks, Printable checks, and Checks by Mail. Having a streamlined process for managing your finances can save you time and money in the long run – choose check printing software that offers the features and integrations you need to streamline your accounting process. 
Why Online Check Writer?
There are many advantages of using Online Check Writer over traditional check writing methods. Perhaps the biggest advantage is that it is much easier to keep track of your finances when all of your transactions are in one place. With Online Check Writer, you can see all of your account balances and transactions in one place, which makes it much easier to budget and track your spending. Additionally, it is cost-effective, so it can save you a significant amount of money over time!