With the advent of cost-effective and feature-rich platforms like Online Check Writer, choices like Chax, Vistaprint, and brick-and-mortar banks are starting to lose their edge in the banking industry. While the world is still trying to get back on its feet from the Covid chaos, the behavioral shifts that transpired will have a lasting impact on the way consumers and businesses interact with each other for years to come. These new mechanisms give consumers new ways to engage with their banks and remove restrictions that are usually associated with traditional banks. 
Whether it's past, present, or future, banking has always been the most integral pillar that supported businesses of all scales. The beginning of the 21st century saw a drastic acceleration in card-based transactions. However, today we regularly see alternative methods for check printing, payment tools, and innovative technological advancements taking center stage in the banking market. What's so exciting about these new alternatives is how they break the notions and practices once accepted worldwide as normal.
Today, consumers expect real-time, omnichannel access to their bank accounts and other financial data. Businesses need to shift their priorities and embrace the potential of technology in order to be successful in this digital era of banking.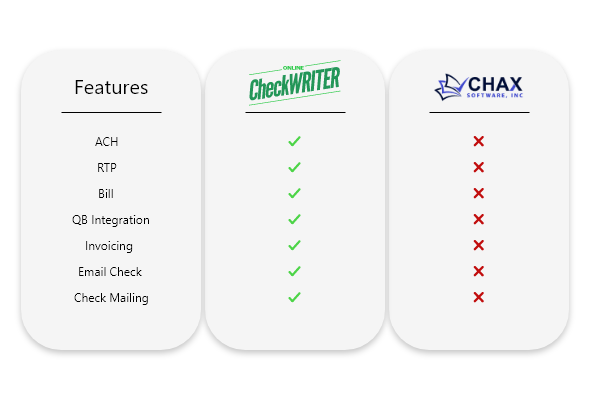 Online Check Writer
Key figures
4,000+
New Customers a Week
50,000+
Transactions per Week
Future-Proof Your Payments Environment
Cloud-based, next-generation banks are disrupting the banking industry as we speak. Instant payment transactions, check printing services, and fee-free ACH & Wire transfers are just some of the benefits even the so-called "advanced" banks can't offer due to their use of outdated technology. This is why it's more important than ever those businesses should harness modern technologies to transform. Whether you run a small or large business, you can save time and money by printing your own checks. In the past, large printing companies or banks handled check printing, but today you can print checks at the convenience of your home or office on blank check stock if you have access to platforms like Online Check Writer.
Unlike CHAX, Online Check Writer blends features and functionalities users actually need. It's no coincidence that Online Check Writer fits like a glove for small and medium scale businesses. If there's one spot where the software always hits a home run, it's their intricately developed services that small and medium businesses enjoy. Using Online Check Writer to manage your expenses and finances efficiently can be the difference between keeping your small business afloat or closing your doors.
5 Things to Look for in an Online Check Writing Software
For your business to operate smoothly, setting up a quality payment system is necessary. Streamlining your payment processing and check writing processes are some of the compelling ways you can quickly improve the operations of your business. Your business will eventually experience cash flow issues without the required tools to process your payments accurately. Adopting Online Check Writer into your business can help you eradicate problems associated with business payment transactions.
Wrapping Up
If your business hopes to remain competitive in this digital era, you need to be willing to make a few changes. Using software that focuses on check printing, payment, and mailing services can position your business for success.
Deciding to streamline your check writing processes and payment processing with Online Check Writer can help your business save time, avoid human mistakes, and ultimately increase your cash flow. Moreover, it brings greater efficiency, agility, and competitiveness and offers several advantages that help businesses drive down costs and gain real-time visibility into their cash flow.