Check printing company is a business that specializes in printing checks. Check printing companies offer many different styles and colors available for order, but the downside is that ordering preprinted checks is a very time-consuming process that takes 7-8 days to finalize a design and deliver it to you normally. If there are shipping delays, you might end up waiting many weeks before receiving the checkbook in your hand. Instead of going through such a laborious process, why not easily design your own checks using predesigned templates in just a few clicks and print them at your office as required. You might be wondering how that is possible. In fact, Online Check Writer allows you to do just that! An easy way to create and print checks instantly using blank check stocks.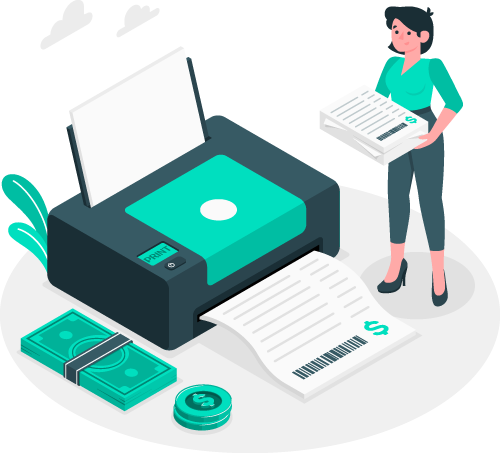 Online Check Writer
Key figures
4,000+
New Customers a Week
50,000+
Transactions per Week
Online Check Writer offers a variety of templates and designs that will help you get your business' finances in order. Plus, its online check printing service is fast, easy to use, and affordable, thus making it one of the best check printing companies for you, right at your office or home.
Check printing services have become quite popular in today's business world. As companies across all industries require competitive yet friendly and productive service, many businesses turn towards this assistance when it comes time to print checks. Businesses can now interact with customers at every level through these physical tools, which gives them more control than ever before.
When it comes to printing checks, there are many options available. You can print using any printer and their associated software that will help you with the entire process of creating your custom design, including logos & signatures, etc., depending on what type is preferred by company policy/practice.
Additionally, Online Check Writer provides a convenient online banking service called Zil Banking. With Zil, you can quickly pay and receive ACH and Wire transfers with no transaction fees. Plus, through USPS, you can send checks by mail with our $1 check mailing service.
Online Check Writer is constantly striving to provide the best possible experience for the users. They are always looking for ways to improve our service and make it more convenient and efficient. Our latest update is a significant step forward in this regard. They have now integrated with 22000+ banks and other financial institutions in the USA and Canada. This will prevent forged checks and allow businesses to reconcile bank data with our software.
Additionally, Online Check Writer is integrated with QuickBooks accounting software. This will allow businesses to import business checks from QuickBooks and print them using our check printing software. The perfect blend of security, style, and comfort makes checks so popular. They are an easy way to pay with your favorite design on them! With the wide variety available, you will find something that suits any interest.
There is no denying that ordering checks from third-party companies can be a huge hassle. Not only do you have to wait for them to be delivered, but you also spend a lot of money on the process. Fortunately, as you have seen now, there is a better way. Make use of it right away.