Checks
Checks can be customized and printed conveniently from your home or office in blank stock paper using any printer. You can personalize your checks by adding logos, modifying fonts, and including other details through a user-friendly drag-and-drop design feature. The platform lets you easily send and receive eChecks through email or text. Also, you can send checks by mail just for $1.25 via USPS/FedEx with a single click.
TRUSTED BY MILLION PLUS USERS
5000+
new customers per week
22K+
transactions per week
Customization of Checks 
Create and personalize your own personal or business checks instantly with OnlineCheckWriter.com. This user-friendly platform allows you to design your checks effortlessly using the drag-and-drop feature. Tailor your
business checks
by incorporating your logo, preferred font, style, etc. This efficient tool makes it effortless to create checks that align with your company's branding, giving them a professional touch. Once customized, you can easily print the checks on regular paper with a standard printer whenever needed, whether at home or in the office. The platform lets you save over 80% in
check printing
costs.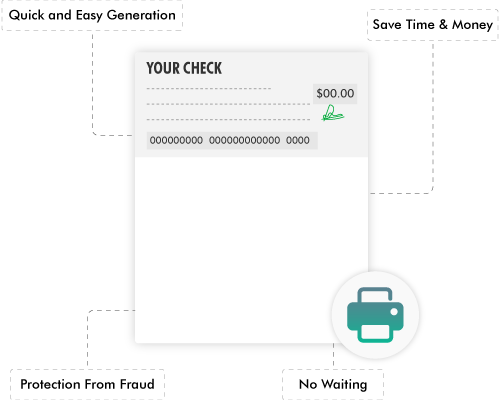 Our Features AP/AR
OnlineCheckWriter.com offers a wide range of banking features to make your business transactions secure and flexible. Now you can pay and receive payments with the easy-to-use software and dive into the journey.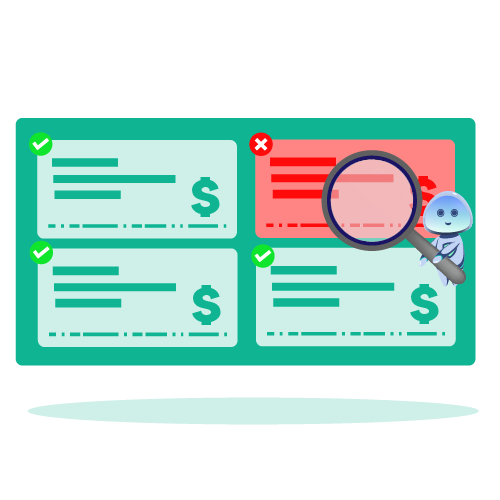 Positive Pay for Checks 
OnlineCheckWriter.com provides various financial management tools tailored for businesses, including the
Positive Pay
feature, to prevent check scams. To utilize this feature, businesses provide their
banks
with a list of cleared checks, cross-referenced with all outgoing checks for payment. If any unauthorized checks are found, the system promptly identifies them as potential scams and informs the company. By automating Positive Pay, users can save companies valuable time and money while providing protection and peace of mind against fraudulent activities, ensuring better control over their own finances.
Easy To Access
Instant access to your account anywhere, anytime.
High Security
Secured with Encryption, Fraud Detection, and Infrastructure.
Easy Payment
Efficiently transfer funds to where they're needed.
Electronic Checks Payment 
OnlineCheckWriter.com offers a user-friendly way to conduct transactions using
eChecks
, which can be sent via email or text. These eChecks are conveniently shareable as printable PDFs, enabling effortless printing with standard printers and regular paper or blank check stock. Moreover, OnlineCheckWriter.com provides the added benefit of recurring payments, making payment tracking simple and cost-effective while retaining traditional
paper checks
' advantages.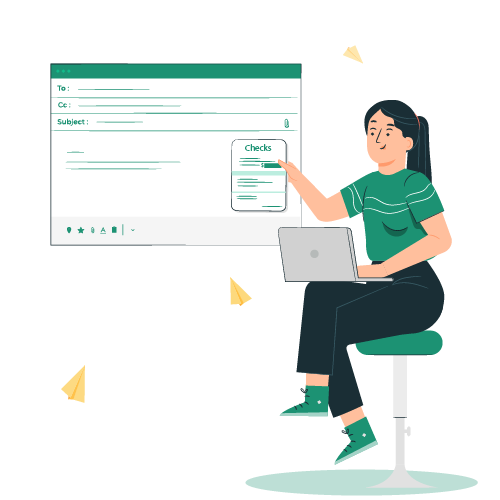 MULTIPLE FEATURES, ONE PLATFORM
CONNECT ANY BANK, PREVENT FORGERIES
OPEN A MODERN BANK ACCOUNT WITH ZIL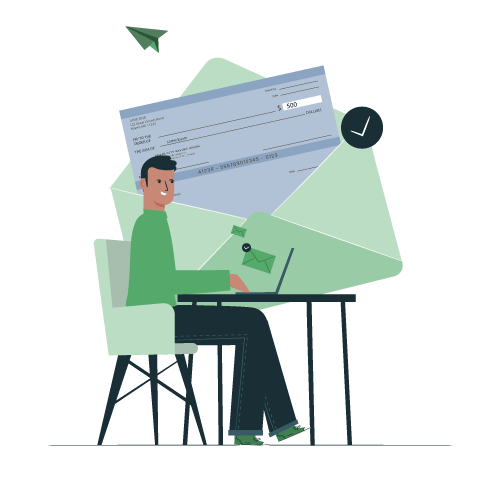 Checks By Mail 
Checks By Mail
offer cost-effectiveness, allowing you to receive them on the same business day. With a minimal fee of $1.25, you can access a convenient check mailing service that covers postage and paper expenses. By enrolling in the check printing software, you can effortlessly generate and dispatch checks by mail, all from the comfort of your workplace or home. OnlineCheckWriter.com handles everything from printing to labeling, enveloping, and mailing your checks promptly on the same business day through trusted mailing services such as USPS or FedEx.
FREQUENTLY ASKED QUESTIONS
How to write checks?
Write checks by filling the date, payee name, amount to be paid, and signature. You can create, print, process, and track your personal or business checks on OnlineCheckWriter.com, the check printing platform.
How to fill out checks?
You can fill out checks by filling the date, payee name, amount to be paid, and signature efficiently and faster with OnlineCheckWriter.com.
How to void a checks?
You can void a check by writing 'void' in large letters across the front of the check or in smaller letters across the dateline, payee line, amount line, signature line, and amount box. OnlineCheckWriter.com lets you void check online effortlessly.
Checks vs Cheques
Cheque and check share the same meaning: a paper-based transactional item issued by banks to facilitate payments from a checking account. While "check" is the more prevalent term in the United States, "cheque" is the preferred term in U.K. English.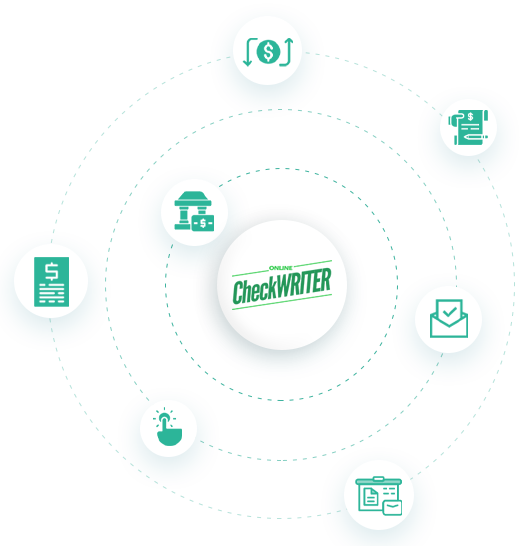 YOUR PERFECT ACCOUNTING SOLUTION
Cutting Cost by Allowing Businesses to use

B

lank Check Stock over Pre-Printed Checks.
A single platform to connect all your bank accounts.
Accept Payments by Phone, Email, Fax & more.
Detecting Fraudulent Checks
Send Checks via Postal Service.
Managing Payrolls.