Accept Payment
Accept Payment just got simple with OnlineCheckWriter.com. You can now send and accept money quickly without any stress. Avoid tiring bank days and start paying and receiving money easier than ever from the comfort of your home. You can open a US bank account remotely in no time. Login at Zil cloud banking and enjoy same-day ACH and Wire transfers. Moreover, send & receive money through printable checks, eChecks, check drafts, ACH, Wire transfer, or RTP.
Learn More About Accept Payment
Online Check Writer
Key figures
4,000+
New Customers a Week
50,000+
Transactions per Week
Cross Platform Support
Use the application on your desired platforms. Install the application on your mobile devices and enjoy the features from anywhere at anytime. A user-friendly platform to manage all your financial aspects under one roof from your smart devices.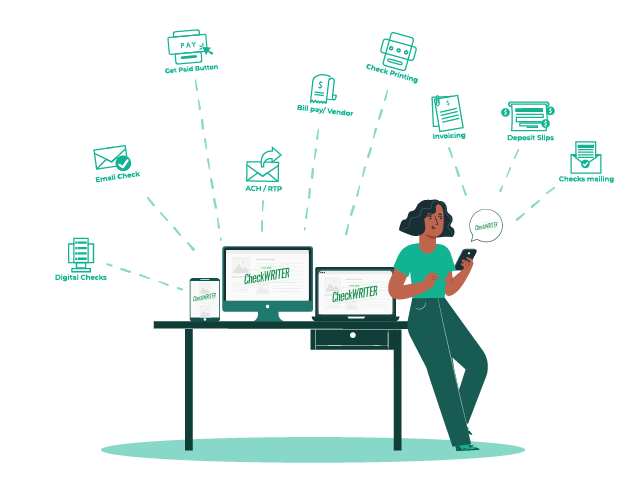 Check Printing
Create and print business checks at your office desk with a drag and drop design.

ACH / RTP
Pay or get paid one-time or recurring ACH/RTP with low transaction fees.

Email Check
Send your checks as a one-time printable pdf with a tracking facility.

Digital Checks
Digitize your paper checks and make your payments via emails or text.

Check Mailing
Check mailing without leaving your desk for $1.25. We print and mail it by USPS.

Deposit Slips
Instantly create & print the deposit slip of any Bank. Keep track & auto reconcile it.

Get Paid Button/Link
Create a HTML form or link to receive payments.

Bank Data
Connect & reconcile, Categorize from Any Financial Institution automatically.

Bill Pay / Vendor
Pay Bills Online, Schedule them, Manage suppliers, and reduce risk.

Invoicing
Create invoice to your customer and send link through email.

User / Approver
Give access to accountant or clients with a role based user and approval process.

API / White Label
Interactive developer-friendly API. Complete white label solution.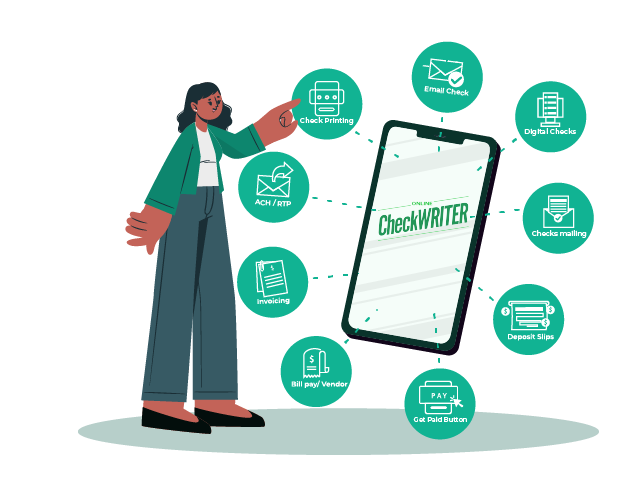 All-In-One Platform
Move money seamlessly on iPhone, iPad, and Android Phones. Download from IOS App Store or Google PlayStore. Our mobile app is fully loaded with the features and functions of our web application in a truly mobile experience. It is now easy to process ACH payments, direct deposits, or RTP. Pay or get paid by printable checks and eChecks on our all-in-one platform with low transaction fees, so you can still run your business on the go.
FREQUENTLY ASKED QUESTIONS
How to accept online payments?
There are many steps in between the process. When you use a credit card to make a purchase, the amount you charge is added to what you owe, typically your credit card's balance. Your balance is not just the sum of your purchases, however. It also includes the interest you owe on your balance and any fees and penalties the card issuer has charged you.
How to accept credit card payments?
Let your customers choose how and when to pay with flexible terms from OnlineCheckWriter.com. It provides the most extensive set of payment methods.
What is the best platform to accept payments?
OnlineCheckWriter.com is the best app to accept payments from overseas. OnlineCheckWriter.com offers the lowest rates for the services. Accept payments through the most secure, convenient, and cost-effective payment pathway.
Accept Payment vs Receive Payment
When you receive a payment, it will deduct funds from the client's outstanding balance. Many online businesses will need credit cards to keep their customers happy.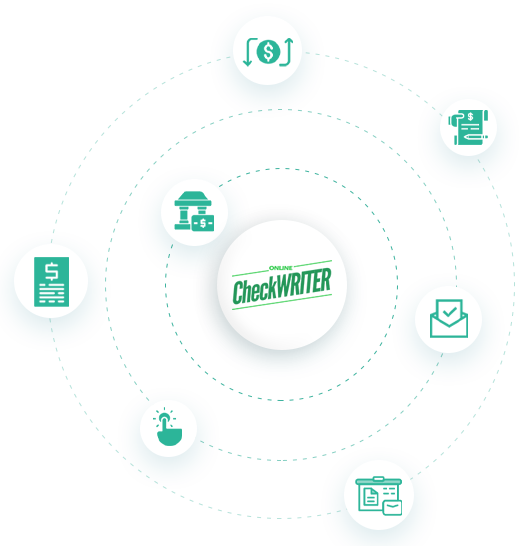 YOUR PERFECT ACCOUNTING SOLUTION
Cutting Cost by Allowing Businesses to use

B

lank Check Stock over Pre-Printed Checks.
A single platform to connect all your bank accounts.
Accept Payments by Phone, Email, Fax & more.
Detecting Fraudulent Checks
Send Checks via Postal Service.
Managing Payrolls.