Bank Deposit Slip
Bank Deposit Slip can be created and printed on demand. Use your printer to print the bank deposit slip on any standard letter-sized white paper. Additionally, with the check printing software, you can print checks on blank stock papers, pay and receive eChecks, and produce printable checks.
TRUSTED BY
MILLION PLUS
USERS

Rated check printing software
in the QuickBooks app store

Banks & Financial Institutions
are Connected
Deposit Slips of Any Bank
Integration with over 22000 banks allows you to connect any bank in the United States and Canada to the platform. In addition, the integration will enable you to create and print bank deposit slip of any bank on a single platform. When you add your bank account for creating checks, OnlineCheckWriter.com automatically generates your deposit slip templates. Additionally, it will automatically reconcile each bank deposit you make.
Create deposit slip
Select Deposit slip from the side panel. Then, click +New and enter the necessary details like Bank account, Date, etc.
Print
After entering the information, you can save and print the deposit slip.
Bank
Deposit them securely in your bank.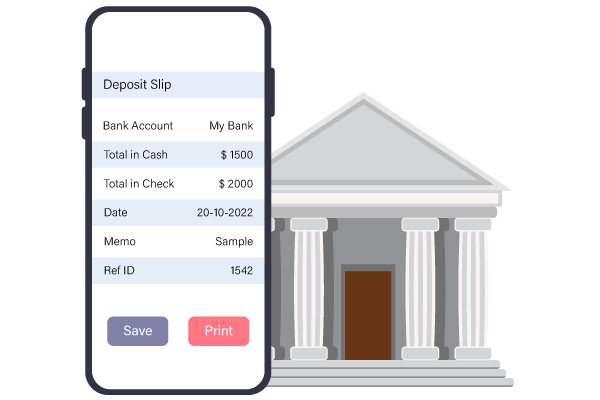 Check Printing
Create and print business checks at your office desk with a drag and drop design.

Pay By Credit Card
Now pay by credit card even if they don't accept them.

Cloud Bank
Open an online bank account with no hidden charges.

Check Mailing
Check mailing without leaving your desk for $1.25. We print and mail it by USPS/FedEx.

ACH / RTP
Pay or get paid one-time or recurring ACH/RTP with low transaction fees.

Wire Transfer
Transfer money electronically from one financial institution to other.

Email Check
Send your checks as a one-time printable pdf with a tracking facility.

Digital Checks
Digitize your paper checks and make your payments via emails or text.

Integration
Integrate with the top third-party applications.

Deposit Slips
Instantly create & print the deposit slip of any Bank. Keep track & auto reconcile it.

Payment Link
Create a HTML form or link to receive payments.

Bank Data
Connect & reconcile, Categorize from Any Financial Institution automatically.

Bill Pay / Vendor
Pay Bills Online, Schedule them, Manage suppliers, and reduce risk.

Invoicing
Create invoice to your customer and send link through email.

User / Approver
Give access to accountant or clients with a role based user and approval process.

API / White Label
Interactive developer-friendly API. Complete white label solution.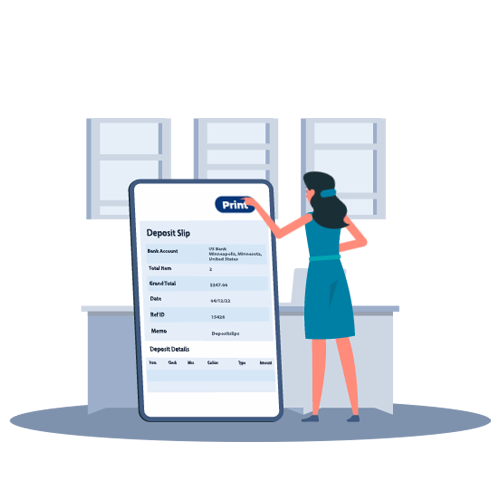 Print Deposit Slips at a Low Cost
When compared to pre-printed deposit slips, printing deposit slips online will save you a lot of money. You don't have to rely on banks or other organizations to provide deposit slips. Additionally, digitalizing the procedure will get rid of handwriting errors. 
MULTIPLE FEATURES, ONE PLATFORM
CONNECT ANY BANK, PREVENT FORGERIES
OPEN A MODERN BANK ACCOUNT WITH ZIL
Check Printing Software For Business
OnlineCheckWriter.com's business check printing software is revolutionary. Businesses can generate customized checks in minutes with this sophisticated software. Eliminate pre-printed checks and manual check writing. The program saves time and money by printing checks on blank check stock using a normal printer. Customize your checks with your company logo, typefaces, and layout. The program tracks check payments, keeps correct records, and streamlines financial processes. You may print checks securely using check verification and encryption. OnlineCheckWriter.com's Check Printing Software simplifies and improves company check printing, making it a vital financial management tool.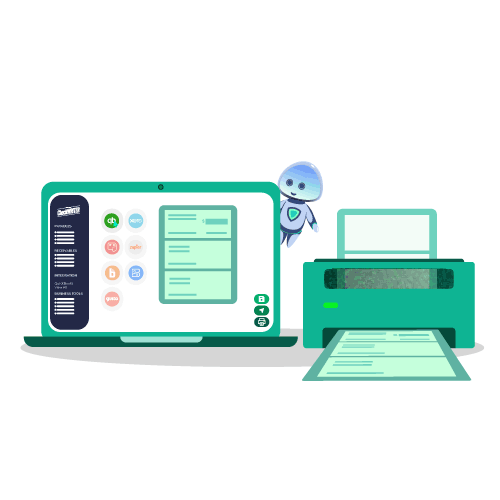 Easy To Access
Instant access to your account anywhere, anytime.
High Security
Secured with Encryption, Fraud Detection, and Infrastructure.
Easy Payment
Efficiently transfer funds to where they're needed.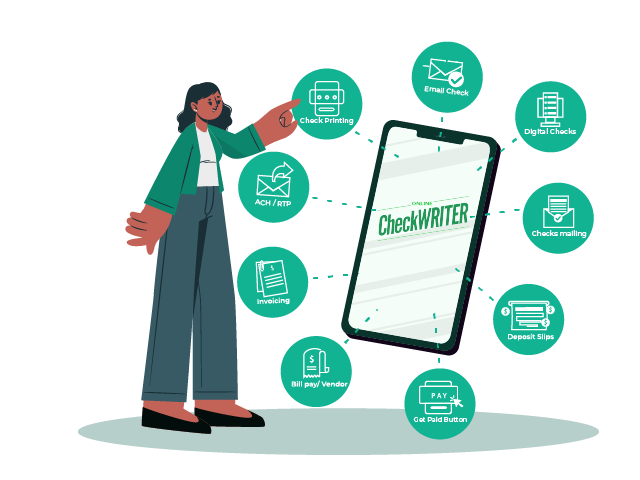 All In One Mobile App
The OnlineCheckWriter.com All-In-One Mobile App revolutionizes digital banking. This smart tool lets you manage your finances from your phone. The OnlineCheckWriter.com mobile app lets you print checks, invoices, manage payments, and reconcile bank accounts. It simplifies financial activities and keeps you organized on the road. Advanced security and real-time upgrades ensure your financial data is secure and accessible. No need for various platforms. Financial management is easy with OnlineCheckWriter.com All-In-One Mobile App.
FREQUENTLY ASKED QUESTIONS
What is a deposit slip?
Banks offer deposit slips as a paper-based tool for customers to make deposits and maintain correct records. On OnlineCheckWriter.com, you can create and print a bank deposit slip remotely from any bank using a mobile device or a desktop computer.
How to fill out a deposit slip?
Your name, bank account number, and current date can all be entered on a deposit slip. Next, write down the amount of money you want to deposit. Checks and cash are often listed on different lines. Subtotal and total amounts should be entered, and the deposit slips should be signed. You can create printable deposit slips online remotely using a phone or desktop with OnlineCheckWriter.com.
Deposit Slip vs Cheque
After clearance, electronic checks can be deposited into the recipient's bank account or remotely by taking a picture of the check, which the bank then scans using OCR technology. All the advantages of paper checks are available for a small fee with eChecks from OnlineCheckWriter.com.
Deposit Slip and Withdrawal Slip
Banks provide their customers paper-based deposit slips that they can use to deposit money into their accounts or fill out with cash. In a specific bank account, it can deposit money or cheques. On the other hand, a withdrawal slip is a paper-based tool that functions like an automatic teller machine and allows you to take money from your account. (ATM).
You will love OnlineCheckWriter. We are sure.
We are confident to offer a 15-day free trial.
No credit-card required for free trial.
Trial period comes with full features: unlimited checks, bank accounts, users/ employees, etc.