Check Ordering Online
Check Ordering Online is both time-consuming and expensive. Instead, print checks instantly online on-demand on blank stock paper using your office or home printer. As a result of the Check 21 Act, checks can be printed using any printer.
Additionally, you can receive and pay checks, eChecks, and ACH transfers. Use our $1.25 Check mailing service through USPS/FedEx to send checks by mail. Also, OnlineCheckWriter.com provides you with an online banking service named Zil. Open a free business checking account with Zil to transfer money instantly, and send ACH, Wire, and Checks by mail.
Online Check Writer
Key figures
4,000+
New Customers a Week
50,000+
Transactions per Week
Switch to Blank Check Stock
Print high-quality checks on blank check stock and save 80 percent of check printing costs. Check ordering online from third parties will cost you a lot of money. While pre-printed checks cost you $0.35 to $0.60 per check leaf, you can print premium quality checks on blank stock papers for $0.05. You can create and print checks on premium blank stock papers five times cheaper than ordering from third parties. All you need is some blank stock papers and a printer.
Moreover, a massive stocking of pre-printed checks is risky since it contains your bank details. On the other hand, printing checks on blank papers instantly on-demand reduces the risk of manipulating your checks. Therefore, print instantly on blank stock papers instead of ordering checks online.

Check Printing
Create and print business checks at your office desk with a drag and drop design.

ACH / RTP
Pay or get paid one-time or recurring ACH/RTP with low transaction fees.

Email Check
Send your checks as a one-time printable pdf with a tracking facility.

Digital Checks
Digitize your paper checks and make your payments via emails or text.

Pay By Credit Card
Now pay by credit card even if they don't accept them.

Check Mailing
Check mailing without leaving your desk for $1.25. We print and mail it by USPS/FedEx.

Deposit Slips
Instantly create & print the deposit slip of any Bank. Keep track & auto reconcile it.

Payment Link
Create a HTML form or link to receive payments.

Bank Data
Connect & reconcile, Categorize from Any Financial Institution automatically.

Cloud Bank
Open an online bank account with no hidden charges.

Bill Pay / Vendor
Pay Bills Online, Schedule them, Manage suppliers, and reduce risk.

Invoicing
Create invoice to your customer and send link through email.

User / Approver
Give access to accountant or clients with a role based user and approval process.

API / White Label
Interactive developer-friendly API. Complete white label solution.

Integration
Integrate with the top third-party applications.
Integration with Banks and Accounting Software
OnlineCheckWriter.com is integrated with 22000+ banks and financial institutions and allows you to connect multiple bank accounts and their checks format. Also, it even offers bank reconciliation solutions and prevents fraudulent checks from hitting your account. Similarly, integration with QuickBooks, Gusto, and Zoho accounting software helps you import checks to the platform. You can either print checks or send them as eChecks and quit check ordering online.
FREQUENTLY ASKED QUESTIONS
Can you order checks online?
Yes, you can order checks online; however, it is time-consuming and expensive. A typical check order would take 7-14 business days for standard delivery. Instead, you can print personal or business checks from any regular printer on the OnlineCheckWriter.com cloud-based check printing platform.
Is it safe to order checks online?
Yes, it is safe to order checks online; however, ordering bulk pre-printed checks online is not secure as it contains sensitive bank information like your bank routing and account number pre-printed. You can print checks online on-demand on blank paper using OnlineCheckWriter.com.
How to order checks online?
You can order checks online from your bank website or third-party sites; however, your check orders can take up to 7-14 days for delivery time. You can print your checks on-demand online instead; why wait on your check orders when you can instantly print checks from any bank in the U.S. on OnlineCheckWriter.com?
Pre-Printed Checks vs Blank Check Stock
Pre-printed checks are available at the bank or ordered online from third-party sites. They are expensive and take around 7-14 days for standard delivery. Printing checks on blank check stock can help you save 80% on your check printing costs. While pre-printed checks cost you $0.35 to $0.60 per check leaf, you can print premium quality checks on blank check stock paper for just $0.05 per check leaf.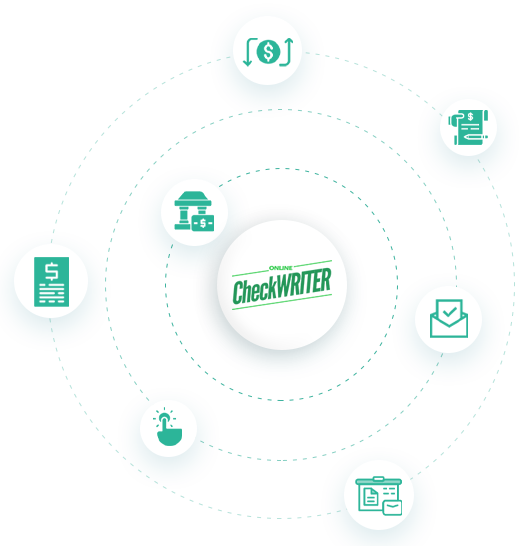 YOUR PERFECT ACCOUNTING SOLUTION
Cutting Cost by Allowing Businesses to use

B

lank Check Stock over Pre-Printed Checks.
A single platform to connect all your bank accounts.
Accept Payments by Phone, Email, Fax & more.
Detecting Fraudulent Checks
Send Checks via Postal Service.
Managing Payrolls.