If you have spent time making checks, you probably know it can take hours. It is not unusual to spend more time on design than printing the checks! That is why Online Check Writer created check template – a pre-designed document that helps you create checks efficiently, saving money and time.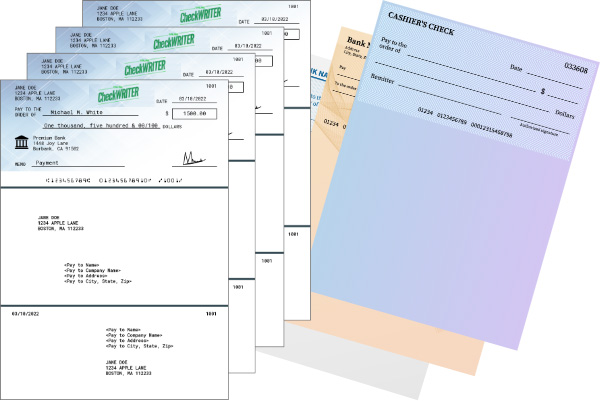 Online Check Writer
Key figures
4,000+
New Customers a Week
50,000+
Transactions per Week
What Is a Check Template?
A check template is a pre-designed check form that you can fill out and print without creating any checks yourself. This makes checking your bank balances, issuing paychecks, or creating loan invoices a breeze.
Benefits of a Check Template from Online Check Writer
If you have printed a check, you know it can be time-consuming and frustrating. With the proliferation of online banking and automatic bill payments, printing checks might seem like something of an outdated tradition. But the simple fact is that businesses still prefer to deal with checks over other modes of payments, and many business transactions are processed via checks. Thankfully, check templates are available to make the process considerably easier. Here are some of the benefits of using a check template:
-Printing checks can be automated, saving time and reducing stress on your end. Online Check Writer lets you create custom checks with your company logo and design, perfect for the blank check template. With our built-in design tool, we offer several features that will ensure all those hard-earned dollars look good on paper.
-Check templates make it easy to format your check for printability.
-Check templates typically include instructions for blanking out any personal information on the check and adding your company's logo or other logos.
-Businesses can manage their accounts payables and receivables, printable checks, and eChecks by using the platform. They can also track payment transactions efficiently with our innovative cloud-based technology that stores all check registers in software while being capable of sending payments simultaneously across payroll departments through templates explicitly created for this purpose.
-Online Check Writer provides a seamless and easy way to write checks from your computer. It is integrated with 22000+ banks in America and Canada so that every time someone writes an authentic-looking check, they can be sure it will not bounce! You have options to connect multiple accounts associated with the business or personal use and use the software if there is no other choice when printing out reports throughout each month.
How to Get Free Check Templates
Many online check template generators allow you to create professional-looking checks quickly and easily. You can design your check templates in minutes with Online Check Writer. Just enter the amount on your checks, the name of your business, and select a design. You can also choose to print your checks right from the generator.
The Importance of Check Template
A check template is a primary document containing all the necessary information to print checks correctly. This includes the account number, the expiration date, and the amount of money being transferred. You can find check templates online or in the software you use to create your checks.
Using a check template will save time because you will not have to enter all this information each time you print a check. Open your template and start typing. The software will automatically fill in the other fields for you.
If you are like most business owners, you probably spend a lot of time creating checks. But you are wasting valuable time and money if you are not using a check template. A check template can save you work hours and make your checks look professional. Plus, it can help prevent mistakes when printing checks.
Check templates are also helpful in preventing mistakes when printing checks. If you use a standard template, the software will help you fill in all the mandatory fields automatically. This eliminates the chances of making errors while printing your checks. In addition to saving time and preventing mistakes, a check template can make your checks look more professional.
As a business owner, you know that checks are necessary for your everyday operations. Whether you are issuing them out to customers or depositing money into the bank, having checks ready and printed quickly can mean the difference between running smoothly and struggling under the weight of unnecessary paperwork. Luckily, Online Check Writer created check templates that make this process incredibly easy. Just choose the one that best suits your needs, fill in the required information, and hit print!