Though it may be time-consuming and expensive to order checks online from third parties, there are still several reasons why one might choose to do so. First and foremost, many people simply prefer the convenience of being able to print their checks at home or in the office, on their own schedule.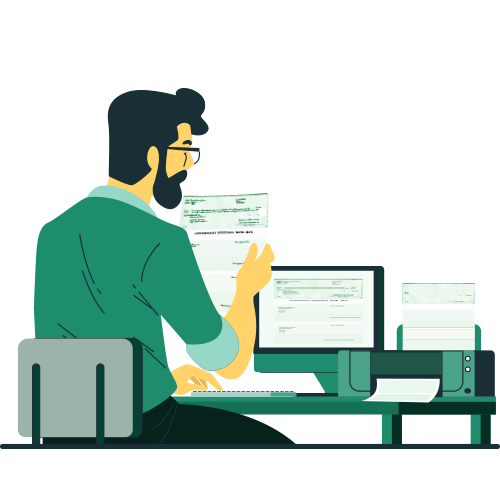 Additionally, thanks to the Check 21 Act, it is now possible to print checks using any printer – making it easier than ever to get started. Finally, by investing in some high-quality blank check stock paper, you can be sure that your checks will look professional and polished – something that may be worth the extra effort for some businesses or individuals. In the end, whether or not to order checks online is a personal decision – but there are certainly some compelling reasons to consider this option.
Online Check Writer
Key figures
4,000+
New Customers a Week
50,000+
Transactions per Week
Overview of the Check-Printing Process
Checks are a convenient way to pay for everyday expenses, and they can be easily printed at home using a personal computer and printer. The process of printing checks is fairly simple and only requires a few supplies. First, you will need to purchase blank check stock, which can be found at most office supply stores. Next, you will need check-printing software on your computer. This software will generate the necessary security features for your checks.
Once the software is set up, you can begin entering the information for your checks, such as the payee's name and address, the amount, and the date. After the information has been entered, you simply need to print the checks on the blank check stock and then sign them. Check-printing software typically comes with detailed instructions on how to properly print and sign your checks. By following these simple steps, you can print personal checks right from the comfort of your home or office.
Cons of Ordering Checks Online
There are a few potential downsides to ordering checks online that you should be aware of before making the decision to do so. First, there is the issue of security. When you provide your personal and financial information to an online vendor, you are trusting that they will keep that information safe from hackers and identity thieves. While most reputable companies take steps to protect their customers' data, there have been cases of data breaches at major companies, so there is always a risk when providing sensitive information online.
Another downside to ordering checks online is that it can take a while for your order to arrive. Depending on the company you order from and your shipping options, it can take a week or more for your checks to reach you. If you need checks right away, ordering them online may not be the best option.
Finally, there is the cost factor to consider. While ordering checks online is often cheaper than ordering them from your bank, there are still costs associated with doing so. You'll have to pay for shipping, and if you choose expedited shipping, that can add up. You'll also need to factor in any taxes or fees that may apply. All of these costs can add up, so be sure to
Advantages of Blank Check Stock
Ordering checks from third-party printing companies is an expensive endeavor, costing upwards of $0.60 per check leaf. However, by printing checks on blank stock paper, individuals can cut their check printing costs by up to 80%. All that is required is a quality printer and some blank stock paper- both of which are likely already on hand.
Not only does this process save a considerable amount of money, but it also reduces the risk of fraudulent check manipulation. When checks are printed on-demand, there is no need to stockpile vulnerable pre-printed leaves. Consequently, printing checks in-house is a superior option in terms of both cost-efficiency and security. It's a simple, effective solution that anyone can take advantage of.
Are There Any Alternatives to Ordering Checks Online?
For many people, ordering checks online is the most convenient way to get the checks they need. However, there are a few alternatives to ordering checks online that may be worth considering. One option is to print checks at home. This can be a good option if you already have a printer and blank check stock or plain white paper from the office supply store.
With the help of check printing software from Online Check Writer, you can print your checks at the convenience of your home or office. There are other options available but whichever option you choose, make sure that you carefully compare the costs and benefits before making a decision.
Integration with Financial Institutions and Accounting Software
OCW offers integration with QuickBooks, Gusto, and Zoho accounting software. This allows you to import checks into the platform so you can print them or send them as eChecks. OCW also provides bank reconciliation solutions to help prevent fraudulent checks from reaching your account. Additionally, OCW's integration with over 22000 banks and financial institutions allows you to connect multiple bank accounts and their checks format. This makes it easy to manage all of your finances in one place. As a result, OCW is a valuable tool for anyone who needs to manage their finances effectively.
Order checks online is a time-consuming investment. The process is simple, but the time taken to order checks online and receive them on time is a time-consuming process. Plus, the cost incurred is another demerit of ordering checks online. So, if you need checks, shift to the check printing software of Online Check Writer, which allows you to print checks at home or office in the convenience of home or office.