There's a very good chance you are already using ACH Transfers and don't even know it. If you have direct deposit and pay your bills online using your bank account, you are using ACH transfers. ACH are electronic transfers processed through the Automated Clearing House Network.
Making automatic payments through this system has increased by 15% since last year. ACH transfers are less expensive and user-friendly than using a debit or credit card or writing a check.
ACH transfers consist of direct deposits and direct payments, making life so much easier for senders and recipients alike. You never have to leave home or wait for a check to clear; everything is taken care of in one step.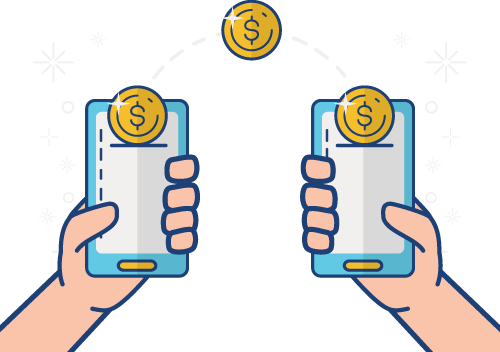 Online Check Writer
Key figures
4,000+
New Customers a Week
50,000+
Transactions per Week
Direct Deposit
ACH direct deposit transfers are made by a business or a government system to the consumer. These transfers include:
Employer Reimbursed Expenses
Government Benefits
Tax Refunds
Annuity Payments
Interest Payments
Direct Payments
Direct payments can be used by an individual, business, or various organizations. As an individual, you can pay bills online using your bank account or use places like Venmo or Zelle to send money to a friend or a family member.
If you are the person sending money, you will see the ACH debit in your bank account. The debit will show whom the money was sent and for how much. The person who receives the funds will see a credit in their bank account.
The Benefits Of ACH Transfers
ACH payments move very quickly, so you can send money from one bank account to another. These payments are convenient and less time-consuming than other forms of payment. NACHA operating rules require that credits are cleared in one or two business days and debited the next business day. NACHA is the administrator of the electronic system that connects all U.S. bank accounts and moves money among them.
In most cases, these transfers do not have a fee, or if they do, it's a small amount. As an example, if you have a PayPal account, you can move any money you have in that account to your bank account for a very small fee if you want it transferred right away or no charge at all if you can wait a few days.
Another benefit is if you use a wire transfer, it can cost between $14 to $75 for an international outbound transfer. In some cases, a wire transfer will arrive on the same day or can take longer to complete. An international wire transfer can take several business days for the money to move from one account to another and a few more days to clear.
The Downside
Some banks might have limits on how many transfers you can make. It can be daily limits, weekly limits, or monthly limits. There could be a limit for bill payments or another payment to a different bank.
In some cases, timing is everything. There might be a cutoff time when you can transfer to have it processed for the next business day. Not all banks send these payments for bank processing at the same time.
Money transfer apps, in general, do not charge a fee to send money to family or friends, but some can charge a processing fee up to 3% when you pay with a credit card.
The Bottom Line
ACH transfers can be hassle-free and inexpensive to move money or receive it. Make sure you understand your bank's policies for ACH direct deposits or direct payments.
Also, watch out for ACH transfer scams. One such scam might be that you receive an email saying you are owed money, and all you have to do to receive it is provide your bank account number. Never, ever give someone your bank account number! Chances are, this is a scam.