Blank Check Paper
Blank check paper stock is reliable for printing customized business and personal checks. The cloud-based software lets you print checks on blank paper online using a regular printer at your home or office. It will save you 80% cost. Buy blank check paper from the nearest office supply store and start printing your checks from anywhere.
Moreover, the registered users can buy blank stock papers straight from OnlineCheckWriter.com. In Addition, The platform provides you with an online banking service named ZilBank. Open a free business checking account with Zil, instantly transfer money, and send ACH, Wire, and Checks by mail.
TRUSTED BY MILLION PLUS USERS
5000+
new customers per week
22K+
transactions per week
Design and Print Checks on Blank Check Paper
Printing checks on blank stock paper lets you design and customize your checks whenever you want with an interactive check design tool. With the easy drag-and-drop design, you can design checks by adding business logos, font styles, and background images. Pre-printed checks have many drawbacks. You will not be able to make any changes to your checks after printing.
Easy To Access
Instant access to your account anywhere, anytime.
High Security
Secured with Encryption, Fraud Detection, and Infrastructure.
Easy Payment
Efficiently transfer funds to where they're needed.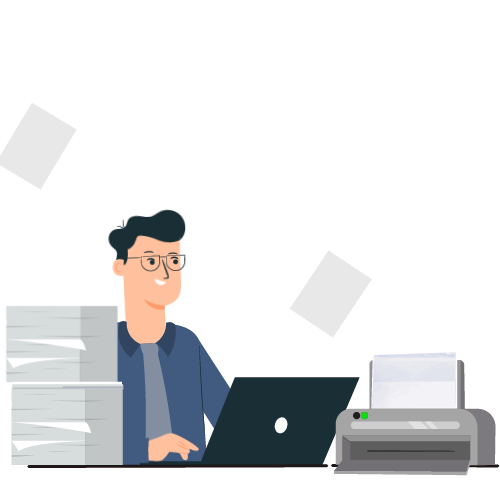 Benefits of Blank Check Paper
Print high-quality checks on blank paper online and save 80 percent of check printing costs. Ordering checks from third parties will cost you a lot of money and time. While pre-printed checks cost you $0.35 to $0.60 per check leaf, you can print premium quality checks on stock papers for $0.05.
Moreover, a massive stocking of pre-printed checks is risky since it contains your bank details. On the other hand, printing checks on blank paper online instantly on-demand reduces the risk of manipulating your checks. Therefore, buy blank stock paper and print checks instantly instead of ordering online.
MULTIPLE FEATURES, ONE PLATFORM
CONNECT ANY BANK, PREVENT FORGERIES
OPEN A MODERN BANK ACCOUNT WITH ZIL
How to Print Check on Blank Stock Paper
With OnlineCheckWriter.com, printing checks on stock paper is easy. Sign in to your OnlineCheckWriter.com and click the "Check" option to start. Then, you can choose the bank account and person you want, enter the amount you want to send, and fill in all the necessary information. Finally, Click the Save button to save the check. Click the Print-Check Paper or Print-White Paper option to print the check.OnlineCheckWriter.com simplifies the process of writing checks, making it easy and quick for users to make correct checks and look professional on white paper.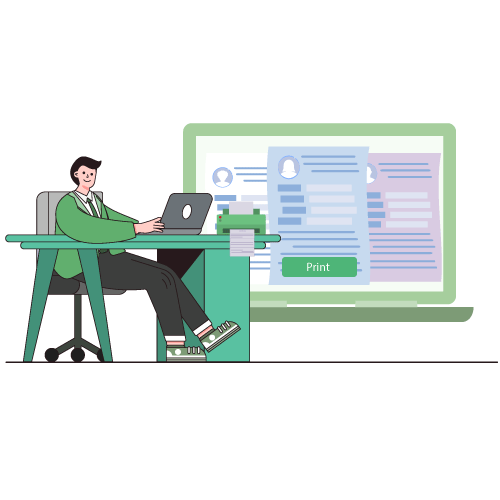 Print Payroll Checks Online On Blank Paper
With OnlineCheckWriter.com, it's never been easier to keep track of payroll checks. This flexible tool makes it easy for businesses to print payroll checks for all their employees simultaneously. Make a new group, add your workers' bank information, and print paychecks whenever you want. OnlineCheckWriter.com also makes it easy to send these checks digitally via email or SMS, so the receivers can print them or put them right into their bank accounts. The platform lets you print high-quality payroll checks on white paper with a regular office printer, so you don't have to buy expensive checks already printed by a third party.
FREQUENTLY ASKED QUESTIONS
What is blank check stock?
Blank stock paper is used to print checks using MICR ink and check printing software. Use OnlineCheckWriter.com to print on blank checks online on-demand without MICR ink.
Can you print on blank check stock with QuickBooks?
You can print them using QuickBooks, which is integrated with OnlineCheckWriter.com. Printing checks on blank check paper saves you time and money. Buy blank paper from an office supply store and print them using a regular printer.
Can you use blank check stock with QuickBooks?
Yes, you can use blank paper with QuickBooks, which is integrated with OnlineCheckWriter.com. Using white paper to print checks reduce the risk of fraud and saves you time and money.
Pre-Printed Checks vs Blank Check Stock
When you Buy blank stock papers, it is more affordable, secure, and convenient than pre-printed checks. You can print premium quality checks on bank paper online with OnlineCheckWriter.com.
$50B+
Revolution
In payments processed through Zil.
22,000+
Partnership
Our platform works with over 22,000 banks and financial institutions around the world.
499,000+
Integrity
Trusted by more than 60,000+ customers within 10 months of launching.