Online Payment
Online Payment made using the recurring ACH facility eliminates the risk of overdue payments and penalty fees. Choose from credit cards, wire transfers, ACH, and checks to make quick, secure, and timely payments. The state-of-the-art encryption technology ensures your sensitive financial information is protected and kept confidential when making an online payment.
TRUSTED BY
MILLION PLUS
USERS

Rated check printing software
in the QuickBooks app store

Banks & Financial Institutions
are Connected
Online Bill Payment
Make quick and secure online bill payments using the platform. OnlineCheckWriter.com provide multiple payment options like credit cards, ACH, wire transfers, and checks to make bill payments easy and safe. The transaction fees are very low for all payment services. Also, make payments with a credit card without incurring any payee charge. Set up recurring payments in the platform to avoid missed payments. The payment system is highly secure, utilizing the latest encryption technologies to protect your personal and financial information. The user-friendly interface of OnlineCheckWriter.com makes it easy to manage all your payments in one place, saving you time and money.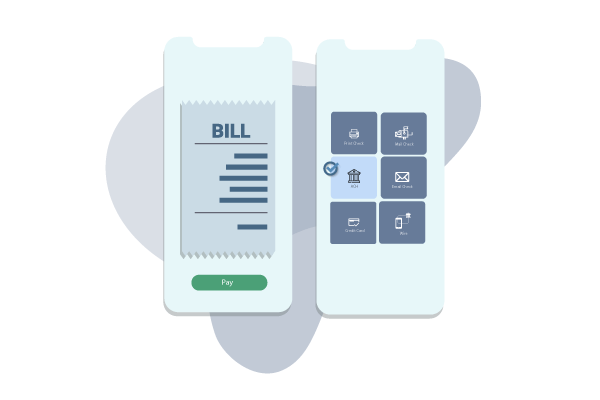 Check Printing
Create and print business checks at your office desk with a drag and drop design.

Pay By Credit Card
Now pay by credit card even if they don't accept them.

Cloud Bank
Open an online bank account with no hidden charges.

Check Mailing
Check mailing without leaving your desk for $1.25. We print and mail it by USPS/FedEx.

ACH / RTP
Pay or get paid one-time or recurring ACH/RTP with low transaction fees.

Wire Transfer
Transfer money electronically from one financial institution to other.

Email Check
Send your checks as a one-time printable pdf with a tracking facility.

Digital Checks
Digitize your paper checks and make your payments via emails or text.

Integration
Integrate with the top third-party applications.

Deposit Slips
Instantly create & print the deposit slip of any Bank. Keep track & auto reconcile it.

Payment Link
Create a HTML form or link to receive payments.

Bank Data
Connect & reconcile, Categorize from Any Financial Institution automatically.

Bill Pay / Vendor
Pay Bills Online, Schedule them, Manage suppliers, and reduce risk.

Invoicing
Create invoice to your customer and send link through email.

User / Approver
Give access to accountant or clients with a role based user and approval process.

API / White Label
Interactive developer-friendly API. Complete white label solution.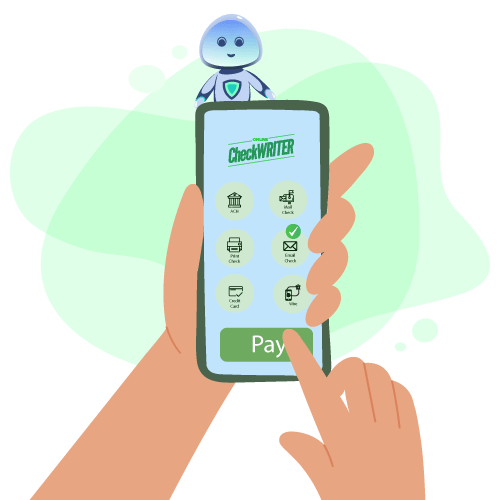 Mobile Banking App
The mobile app enables users to manage finance at their fingertips. Download and install the app on ios or android. It will be an excellent choice for your financial management. Check bank account balances, view transaction histories, transfer funds, deposit checks remotely, and pay bills. Manage your money at any time from anywhere. Protected with the latest security features, OnlineCheckWriter.com ensure all your sensitive information is safe. Our 24/7 customer care support is always available to help you with any questions or concerns, providing you with the best possible service at any time.
MULTIPLE FEATURES, ONE PLATFORM
CONNECT ANY BANK, PREVENT FORGERIES
OPEN A MODERN BANK ACCOUNT WITH ZIL
Rent Payment
OnlineCheckWriter.com streamlines rent payments. Online rent payment eliminates paper checks and difficult tracking for owners and renters. Our software lets managers set up rent payments for renters, who can pay online with a bank account or credit card. Our platform integrates with accounting software for automated rent payments. This saves time and makes renting more secure and transparent. OnlineCheckWriter.com simplifies rent payment for landlords and tenants.
Easy To Access
Instant access to your account anywhere, anytime.
High Security
Secured with Encryption, Fraud Detection, and Infrastructure.
Easy Payment
Efficiently transfer funds to where they're needed.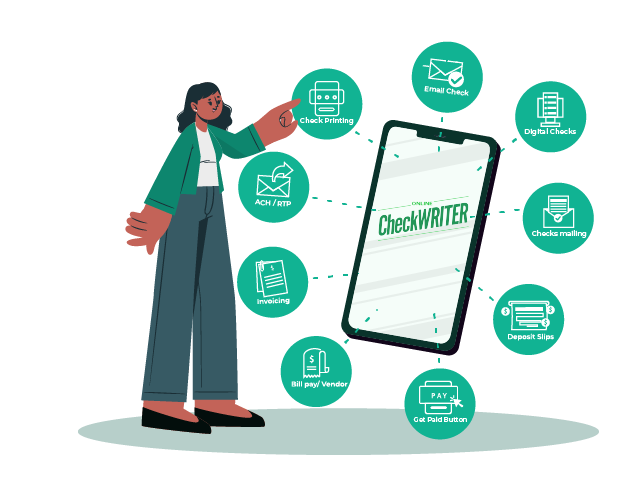 All In One Platform
OnlineCheckWriter.com simplifies and secures ACH, direct deposit, and RTP payments. This platform lets you pay or receive payments via printed checks or e-Checks at minimal transaction fees. The app has all the online features and functionalities, making it easy to operate your business on the go. You may also link several bank accounts and manage your payments on the platform. OnlineCheckWriter.com is a great payment solution because of its ease of use.
FREQUENTLY ASKED QUESTIONS
What is online bill payment?
Online bill payment is referred to as paying bills through the internet. The online payment network is protected with the latest security features. Make secure online payments with OnlineCheckWriter.com.
How safe is online bill payment?
Online bill payments are considered more secure than paying in person or through the mail. OnlineCheckWriter.com is an excellent platform for making online payments.
How to accept credit card payments online?
Accept credit card payments online without incurring any payee charge with OnlineCheckWriter.com. You can also make ACH, wire transfer, and check payments using the platform.
ACH vs Wire Transfer
ACH is a bank-to-bank electronic payment network in the US. Wire transfer is the transfer of funds worldwide through a secure network monitored by banks and financial institutions around the world. Make safe and fast ACH or wire transfers with OnlineCheckWriter.com.
You will love OnlineCheckWriter.com. We are sure.
We are confident to offer a 15-day free trial.
No credit-card required for free trial.
Trial period comes with full features: unlimited checks, bank accounts, users/ employees, etc.