How Businesses Can Send, Receive & Keep Track of Payments in 2023
The payments industry is experiencing a rapid digital transformation, with more purchasing options emerging every day. It is predicted that by 2022, eCommerce transactions are expected to surpass $4.6 trillion globally, highlighting customers' rapidly increasing need for advanced payment methods. 
 With the widespread availability of high-speed internet coupled with consumers' voracious appetite for convenience and speed, the payments ecosystem is becoming increasingly complex as we speak. In this digital age, learning how to simplify the payment process and improve customer experience is essential for achieving profitability and success.
 As payment systems continue to evolve, SMEs can take advantage of this state-of-the-art technology to grow, meet and exceed consumer expectations. Learn how a cloud-based online payment system can transform your personal and business life.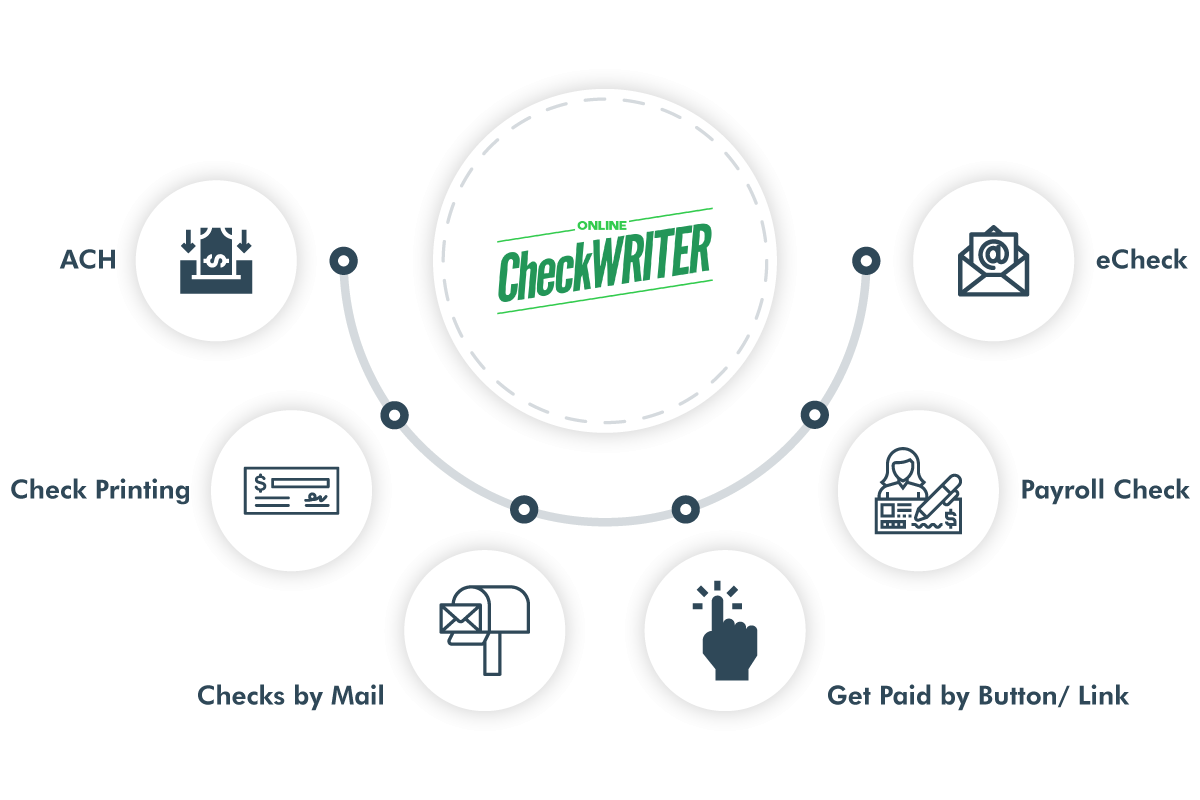 Offering your customers an instant check printing feature that lets them print checks on blank stock papers and other advanced diverse money transferring solutions is necessary to stay competitive in the financial services industry. That's why many companies use Online Check Writer, as we can make their print management more accessible, better controlled, and cost-effective. Our solutions offer a wealth of features that can be beneficial to your small scale business and help you to reach more consumers, including:
The broadest range of payment transactions from simple customized check writing and electronic checks to quick ACH payment options to satisfy the needs of every customer segment.
Provides cloud-based online banking and financial management services, including portability with dedicated IOS and Android apps
A broad range of integration options, from QuickBooks to Zapier, is available. And thanks to the Check 21 Act, users can even print Chase checks at their home or office using the Online Check Writer.
Facilitates payment transaction options, including Check By Mail (The service that allows users to send checks to their payee via USPS or FedEx.) & Payroll Check (A service that will enable users to print payroll checks massively for their entire employees, one time or recurring.)
Many companies offer such solutions today, but what makes Online Check Writer stand out from the bunch? Is it the sophisticated check-writing features OCW provides or something else? The following details might help you to make a decision.
Why get software that can only write and print checks when you can avail the most sophisticated features with Online Check Writer? Reshape your check printing processes to keep your business running smoothly. With OCW, even printing checks like Deluxe Checks can be done instantly online on blank stock papers.
Customization
Online Check Writer allows you to customize your checks, thanks to features like;
Customization with the inclusion of a logo
Ability to add signatures
Facility to change the font type, size, and color
Customizing your personal checks makes a big difference, both functionally and aesthetically. Moreover, having an option to personalize their look will bring more attention to your brand. You can design, add your brand colors with varying backgrounds, add logos and even remove unnecessary fields to make your checks look authentic and unique.
Integration
Avoiding unnecessary transaction fees on your payments and check transfers can be a big bonus for your business. With the ability to integrate more than 22,000 Banks and financial institutions around the globe, Online Check Writer will make your payment activities much more seamless and speed up the check creation process a great deal.
Import your data from multiple platforms, including;
QuickBooks (Created by Intuit, QuickBooks is an accounting software package that offers solutions for managing personal, business, and tax finances.)
Zapier (Zapier is an online automation tool that helps you connect and automate repetitive tasks between two or more apps.)
Zoho (Zoho is a unique and powerful web-based online office suite developed to transform how you run a business.)
Bitpay (Bitpay is one of the most trusted and experienced companies in bitcoin payments. Now you can easily integrate Bitpay with Online Check Writer to make payments and take complete control of your financials.)
Security
Not keeping pre-printed checks lying around decreases the chances of check fraud or theft. Furthermore, sensitive data stored on your device with a password is, without any doubt, much safer than any physical documents. Moreover, Online Check Writer provides state-of-the-art military-grade protection to keep your data safe from the prying eyes, thus adding extra layers of protection to your payment transactions. Hence, Online Check Writer stands as a viable alternative to outdated financial systems that are becoming increasingly vulnerable day by day.
(state-of-the-art military-grade protection: Enhanced by Positive Pay and military-grade encryption services, Online Check Writer offers 100% fraud detection and protection features.)
Convenience
It is highly stressful when your business runs out of checks and you need them for an emergency payment transaction. So, investing in an advanced printing system is incredibly important. With Online Check Writer, you can conduct transactions or other banking-related activities any day, anytime, and from any place, as long as you have a computer or a digital device. In other words, you can manage all your personal/business accounts on a single platform 24/7 from anywhere with an internet connection. Furthermore, the platform allows users to print checkbooks online on-demand using any printer available.
In addition, Online Check Writer allows users to print checks instantly without the need for MICR code. The check routing and account number are enough.
Cost-Effective
With the help of Online Check Writer, people can print checks at their office or even at home whenever they want, which translates to fast and trouble-free payment transactions.
Moreover, the emergence of Online Check Writer transformed banks and businesses from heavily investing in dedicated hardware, software, and workforce. Transitioning from traditional systems and methods to a more effective, cloud-based setup eliminates the need for extra staff and money involved in developing and maintaining servers. Furthermore, Online Check Writer offers multiple tiers of subscription plans ranging from free limited access usage to reasonably priced unlimited access. In addition, you can even save 80% of your check printing cost by printing Bank of America Checks, Chase Checks, etc., using OCW instead of ordering checks from platforms like Costco or Versa Check. Or, you could print blank checks on-demand instantly using Online Check Writer, thereby saving more money and time.
Time-Saving
Writing checks whenever the need arrives can be a little hectic and tiresome as the companies are usually loaded with many work responsibilities. With Online Check Writer, you can print any number of checks and can accurately carry out the tasks on time. All you need to do is follow the terms of use.
As a business owner, you need to evaluate the time and effort wasted on transaction purposes. Getting an advanced payment software like Online Check Writer helps reduce manual entries, enhances accounting accuracy, and saves your business a great deal of time and money. Join thousands of forward-thinking enterprises using Online Check Writer to control transactions, pay bills and rent, save time, and automate payroll processes.
Why Online Check Writer Is the Perfect Solution
More than ever, small and medium-scale businesses are at the stage where they need to leverage digital technology to deliver improved customer experiences. As you can see, Online Check Writer is very convenient, advanced, and offers too many benefits to ignore. It will help businesses and individuals save time and effort while eliminating any potential financial challenges. 
Printing checks, whenever you want, sounds like a dream. No more running to the bank worrying about the validity of the information. Online Check Writer lets you create even a printable Wells Fargo check or a deposit slip in seconds. You don't want your money ending up in someone else's account or waste time and money buying pre-printed checks from third parties like Walmart Checks, right? So sign up today and test it for yourself
Do you need to know how to use OCW to create a payment to your vendor using your card, even if they don't accept card payments? Click here:
Not sure if Online Check Writer is the right check printing software for you? Give it a try for FREE!